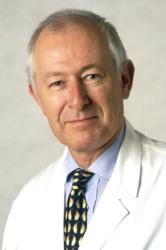 San Deigo, CA (PRWEB) July 05, 2011
Rene Verdonk, MD, Professor of Orthopaedic Surgery and Chief of Orthopaedic Surgery and Traumatology at the Ghent University Hospital, Belgium, will be inducted into the American Orthopaedic Society for Sports Medicine's (AOSSM) Hall of Fame, Friday, July 8th during its Annual Meeting in San Diego, California. The Hall of Fame honor recognizes members of the orthopaedic sports medicine community who have significantly contributed to the specialty.
Dr. Verdonk is the current co-editor in chief of Knee Surgery, Sports Traumatology, Arthroscopy, the official journal of the European Society of Sports Traumatology Knee Surgery and Arthroscopy (ESSKA). He is a Past President and served as chairman of the basic science committee at ESSKA.
Dr. Verdonk received his medical degree at the University of Ghent in 1971. He has been involved in the advancement of trauma surgery and in knee pathology, and takes a special interest in cruciate and meniscal surgery. Currently, he is also involved in research in cartilage pathology. He earned his PhD in 1992 with a thesis addressing human meniscal transplants.
He is a member of multiple scientific societies, including the Belgian Orthopaedic Trauma Association (BOTA) and the Belgian Society for Orthopaedic Surgery and Traumatology, where he served as President in 1991 - 1992. He is a member of the ISAKOS strategic planning committee and of the ISAKOS Education Committee, as well as a member of the American Academy of Orthopaedic Surgeons (AAOS). He is also a member of the American Orthopaedic Association (AOA) and of the Orthopaedic Trauma Association (OTA).
Dr. Verdonk is published in a number of journals, including AOSSM's American Journal of Sports Medicine.
The American Orthopaedic Society for Sports Medicine (AOSSM) is a world leader in sports medicine education, research, communication and fellowship, and includes national and international orthopaedic sports medicine leaders. The Society works closely with many other sports medicine specialists, including athletic trainers, physical therapists, family physicians, and others to improve the identification, prevention, treatment, and rehabilitation of sports injuries. AOSSM is also a founding partner of the STOP Sports Injuries campaign to prevent overuse and traumatic injuries in kids. For more information on AOSSM or the STOP Sports Injuries campaign, visit http://www.sportsmed.org or http://www.stopsportsinjuries.org.
###