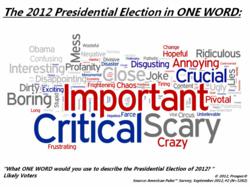 Likely Male Voters Say Election is Important, Critical; Females Say Scary
Worthington, OH (PRWEB) September 28, 2012
Amidst polarizing debates on the correct course for the country, the majority of Likely Voters say America's moral compass is clearly pointed down the wrong path. 61.6% of Likely Voters say America's moral compass is not at all or not really pointing in the right direction, according to the latest American Pulse™ Survey (SEPT-12-2, N=3,282). Just one in five (19.6%) think morals are on track:
"Do you think America's moral compass is pointing in the right direction?"
Likely Voters
1 – No, not at all: 30.2%
2 – No, not really: 31.4%
3 – Neutral: 18.8%
4 – Yes, somewhat: 15.1%
5 – Yes, definitely: 4.5%
Source: American Pulse™ Survey, SEP-12-2
Further, 53.9% of those somewhat or very likely to vote this November say the country's morals are worse than they were four years ago. Only 13.3% of Likely Voters feel the country's morals have improved, and 32.8% feel they've remained the same.
For a full, complimentary report on America's moral compass including which decade exemplified the best (and worst) moral conduct, click here.
In addition, the majority of Likely Voters (55.5%) say the economy is not at all or not really heading in the right direction. 3 in 10 (30.2%), however, say the country is on course in this area. Men likely to vote (56.6%) appear slightly more likely than their female counterparts (54.4%) to be disappointed in the route the economy is currently taking. The majority of both genders, however, describe the overall state of the economy as "Poor."
Although the Federal Reserve lowered interest rates in an attempt to boost the economy, most Likely Voters (63.6%) aren't planning any major life changes. 44.9% simply have no need, 35.2% don't think the economy will improve enough for a change, and 30.7% still wouldn't have the financial ability. Men taking advantage of lower interest rates are more likely than women to buy a car (11.2%) while women are more likely to consider going back to school (7.5%).
What does all this mean for the election? The economy is still the #1 issue on Likely Voter's minds going into November, and voter's perceptions of the economy will likely influence their votes. 42.3% of Likely Male Voters think President Obama has done a "Terrible" job with the economy in the past four years. Another 22.0% rate his performance as "Poor."
Possibly as a result, Men likely to vote favor the challenger, Mitt Romney. Likely Female Voters, on the other hand, favor the incumbent and rate Obama's fiscal performance less harshly.
"If the Presidential Election were held today, who would you be more likely to vote for?"
(Likely Voters)
All
Barack Obama: 43.8%
Mitt Romney: 45.5%
Undecided: 10.7%
Men
Barack Obama: 40.0%
Mitt Romney: 50.8%
Undecided: 9.2%
Women
Barack Obama: 47.5%
Mitt Romney: 40.3%
Undecided: 12.2%
Men and Women likely to vote not only differ on their presidential preference—they describe the election differently. Men are more likely to use the words Important and Critical, while more Women find Election 2012 (along with the outcome) to be Scary. View the word cloud for all Likely Voters here!
American Pulse™
The American Pulse™ provides a timely view of how people feel about topics such as politics, pop culture and the economy through the American Pulse InsightCenter™. This center provides advanced cloud-based technology-driven answers, which are delivered via multiple devices (PC/Tablet/Smartphone), regarding the current state of the union through the eyes of Americans. 3,282 respondents participated in the second September American Pulse conducted 9/20-9/27/2012. Margin of error is +/- 1.7% at the 95% confidence level.
reInvention LLC
reInvention LLC provides global sampling and data collection services. Driven by a passion for making it incredibly easy to survey audiences anywhere in the world, reInvention delivers high-quality responses and superior results. OneOpinion, reInvention's respondent panel, is a next generation survey taking platform that encourages survey participation through sophisticated technology, honest communications, and respectful compensation. reInvention was founded by Hugh Davis and Keith Price and is headquartered in Westport, CT. http://www.reInvention.com
Contact:
Chrissy Wissinger, Senior Manager, Communications
chrissy(at)biginsight(dot)com
Randi Honkonen, Analyst
randi(at)biginsight(dot)com
614-846-0146
reInvention LLC
Jim Nikolis
jnikolis(at)reinvention(dot)com
203-635-0882
###