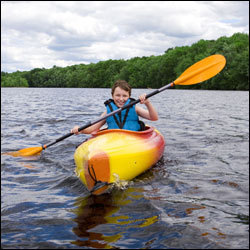 Norwalk, CT (PRWEB) July 25, 2007
AP9 24ProtectPlus, a premier security program offered by Adaptive Marketing LLC, knows that the summer months are all about outdoor fun. And whether poolside, at the beach, on a lake, river or other tributary, people just love to spend the summer months in and around water. But the fact remains that nearly 3,000 people die every year in drowning accidents. While those sobering numbers include people of all ages, children four years of age and younger have the highest death rate due to drowning. Summer should be about fun, yes, but AP9 24 Protect Plus warns that it must be about safety, too.
Hanging out by the water on a hot day certainly says "summer," but AP9 24 Protect Plus knows that waterside fun calls for rules -- or at least tips to make sure that things stay fun and safe, especially when kids are involved. Here are a few tips to keep the good times rolling -- regardless of where water-related activities take you this summer:
-- Don't even think about it! No one doubts that life's pace can be exhausting, but that doesn't mean common sense should just drift out to sea. So let's make it easy … never leave a child alone near water, on the pool, at the beach -- even in the bathtub. The most hectic schedule in the world needs to have time built in for safety.
-- Practice makes perfect. Man might have been born to walk, but not to swim. Remember that when around water, suggests AP9 24ProtectPlus. Enroll kids ages three and over in swimming lessons. Just keep in mind that swimming lessons don't mean kids can't drown. Be smart.
-- Don't assume anything. The nation's many water parks are definitely among top summertime family destinations; they are also among the most dangerous. AP9 24ProtectPlus wants fun at a water park to stay fun. So don't assume that reading posted safety tips is a waste of time. It's not. Both children and adults can get hurt if they don't pay attention at an amusement park. Read the posted rules and regulations on water rides first … then start having fun.
-- Don't drink and drive. The roadways aren't the only place that alcohol can get a driver in trouble. Never drink alcohol when driving a boat. It's that whole "common sense" thing again, but take that to heart. If people think D.U.I. laws are strict out on the roadways, rules drawn up by the U.S. Coast Guard can be a whole lot tougher.
In addition to offering these helpful water-safety tips, AP9 24Protect Plus can help with home improvement projects; financial advice; medical records storage; and other key safeguards. So have a great time this summer. Just take heed of these safety-minded messages from AP9 24 Protect Plus.
About AP9 24ProtectPlus
AP9 24 Protect Plus is a leading membership discount program offered by Adaptive Marketing LLC. Headquartered in Norwalk, Conn., Adaptive Marketing is a category leader in membership programs, bringing value direct to consumers through an array of benefits in healthcare, discounts, security, personal property and personals. Members may access their benefits at 24ProtectPlus123.com. With broad online and offline distribution capabilities, Adaptive Marketing offers its corporate client partners effective tools to enhance market presence, strengthen customer affinity and generate additional value through programs such as AP9 24ProtectPlus.
###