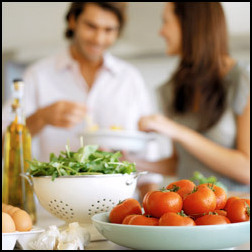 Norwalk, Conn (PRWEB) March 9, 2007
Good nutrition involves two main ingredients: what you eat and how you eat it. AP9 AtHomeRewards, a leading discount membership program offered by Adaptive Marketing LLC, reminds consumers that eating right does not require a menu of bland, flavorless foods. It's a matter of learning what's best for you and your family so you can develop healthy eating habits and, therefore, better health.
As AP9 At Home Rewards reports, many healthy habits start in the heart of the home: the kitchen. Once you learn more about different foods, their nutritional values and the best way to prepare them, you'll enjoy your meals more, and your health will thank you. In health and in cooking, a minor change can make a big difference, and the following tips can give you some useful ideas:
--Use olive oil. An essential ingredient of Mediterranean cuisine, olive oil contains polyphenols, the potent antioxidants that have been shown to help reduce blood pressure and cholesterol levels. The extra-virgin is the best kind.
--Switch to brown rice. The taste is great, and it's a whole grain, which makes it an excellent source of fiber. Brown rice is also rich in vitamins, manganese, selenium and magnesium, elements that help produce energy, improve the health of the nervous system, and help reduce the risk of colon cancer.
--Cut down on salt. At least cut salt in half in your daily cooking, reports AP9 AtHomeRewards. The taste will not change noticeably, and your body will thank you. You can replace salt with garlic or onion powder, flavored vinegar or your own mix of garlic, onion, paprika and parsley flakes.
--Add garlic. Raw, crushed garlic is the best, so try to use it as often as possible. Garlic is full of antioxidant properties, which benefit the cardiovascular system most. Recent studies have also shown some weight-control properties, if eaten frequently.
--Boil and steam. Both cooking methods maintain flavor, color, and nutrients. Other great and low-fat options are roasting, stir-frying, poaching and grilling. Keep in mind that extended heat and liquid can destroy valuable nutrients of the meals you are preparing.
--Eat more fatty fish. Yes, salmon, herring and sardines are full of omega-3 fatty acids, a highly neuroprotective component. Add fish to your meals at least once a week if you want to aid the communication between nerve cells, improve your learning and memory skills, and reduce your risk of Alzeihmer's disease.
--Eat more veggies. Whenever possible, add vegetables to your meals throughout the day. The recommended quantity is five portions a day. Add new vegetables to the traditional soups, salads, stews and casseroles you prepare, and add veggie juice to the grocery-shopping list.
Consumers can enjoy significant, year-round savings on cooking and home needs for the kitchen, along with home improvement ideas and much more for the entire family, through AP9 At Home Rewards.
AP9 AtHomeRewards
AP9 At Home Rewards is a leading membership discount program offered by Adaptive Marketing LLC. Headquartered in Norwalk, Conn., Adaptive Marketing is a category leader in both membership and loyalty programs, bringing value direct to consumers through an array of benefits in healthcare, discounts, security, personal property and personals. Members may access their benefits at AtHome-Rewards.com. With broad online and offline distribution capabilities, Adaptive Marketing offers its corporate client partners effective tools to enhance market presence, strengthen customer affinity and generate additional value through programs such as AP9 AtHomeRewards.
###