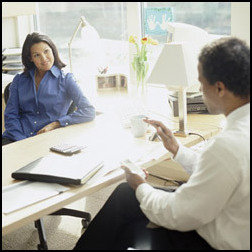 what to wear for an interview
Norwalk, CT (PRWEB) March 9, 2007
Norwalk, CONN. March 09, 2007 … New year, new goals, and new job. Sound familiar? And three months later, after finding an open position for the right job, applying for it, and finally getting that phone call asking for an interview - blowing the interview just can't happen. AP9 BusinessMax, a leading membership discount program offering members savings on everything from office supplies and services to professional development, provides members with the interviewing tips they need to ace their next job interview.
AP9 BusinessMax reports that finding the perfect job is not as easy as one may think. But the reality is that the majority of people have a more difficult time landing their dream job than they do finding it. Many times, a job interview that didn't go as well as planned may be the blame.
A job interview is not only about professional experience. It's about first impressions, body language AND professional experience. While many job applicants worry about how they will answer every possible interview question, in reality many don't do well because of their improper body language. There are certain techniques AP9 Business Max recommends using for a successful interview:
-- Feeling prepared equals being prepared. First, we'll assume that the interviewee has already done her homework before the interview by reading up on the company and industry news, practicing and thinking of answers to the most common interview questions, and following the "what to wear for an interview" guidelines. What's important is feeling prepared and, as a result, being prepared for the interview. The key to success: The interviewee needs to feel 100% confident of her knowledge and experience.
-- The interview begins at "hello." Many managers claim they can pick out a good candidate in 30 seconds or less -- a decision based on physical appearances and first impressions. Looking clean, professional, and eager to start is the key in the first 30 seconds. However, body language is just as important as one's personal appearance. From the moment an applicant walks into the building to the moment he leaves, positive body language, professional posture, and professional behavior should become one.
-- Look alert. Sit up straight and lean slightly forward in your chair to show interest and engagement. If more than one person is doing the interview, briefly address both people with a gaze, then return the attention to the person who asked the question. Think before answering a question -- taking a minute to gather one's thoughts is not a mistake. Interviewees should try to provide examples of past experiences to highlight their own expertise in a particular area.
-- It's not over until it's over. Think of the interview as being over only until after leaving the building. Everything that happens between the last handshake and the closing of the front door can still make an impression. AP9 Business Max recommends not letting one's emotions take over -- stay calm and collected until you are officially off the property.
The interview is just the beginning of a career journey. Remember that, at the end of the day, sheer hunger, excitement, professionalism and confidence are what will differentiate one job candidate from the next, concludes AP9 BusinessMax.
About AP9 BusinessMax
AP9 BusinessMax is a leading membership discount program offered by Adaptive Marketing LLC. Headquartered in Norwalk, Conn., Adaptive Marketing is a category leader in both membership and loyalty programs, bringing value direct to consumers through an array of benefits in healthcare, discounts, security, personal property and personals. Members may access their benefits at BusinessMax123.com. With broad online and offline distribution capabilities, Adaptive Marketing offers its corporate client partners effective tools to enhance market presence, strengthen customer affinity and generate additional value through programs such as AP9 Business Max.
###