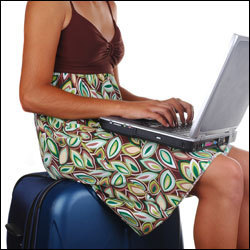 Norwalk, Conn. (PRWEB) August 3, 2007
Meeting clients, promoting a new product or service, and attending events are all good reasons to travel for business and not for pleasure today. With companies becoming global, more and more people find themselves traveling from city to city and country to country to close deals, make presentations, or visit the corporate office. One suggestion from AP9 BusinessMax, a leading membership program offered by Adaptive Marketing LLC featuring discounts on office supplies and services, professional development and more, is to use top-quality, light luggage during those never-ending business trips.
The majority of business travelers are always in a hurry, notes AP9 Business Max, and don't really have time to pack several bags -- much less check them at the airport. What they need is luggage that holds all of their necessary belongings but is still compact enough to be a carry-on. That way, when the plane lands, the traveler can simply get off the plane and head to the next destination without wasting any time waiting for checked luggage.
AP9 BusinessMax has several recommendations to keep in mind while shopping for the ideal business luggage. Beyond options such as price, color, material, and style, be sure to take the following characteristics into consideration before reaching a final decision:
-- Choose a carry-on. As noted before, business travelers tend to have very tight schedules, and time is money. Luggage that can be lugged anywhere at any time can save them the extra half-hour usually needed to pick up their luggage and even prevent the inconvenience of losing or missing their luggage. Just remember to follow the size guidelines offered by the airlines to ensure that what you buy will fit in the overhead compartment. Most bags within the 24" x 14" x 9" (61 x 35.5 x 23-cm) size range are considered acceptable on all planes.
-- Get some wheels. Lots of walking and even running are part of the daily schedule of a business traveler. To help your daily routines, it is important that you have luggage with wheels to make it easier to get around airports, hotels, and the like. Heavy-duty wheels (some have durable in-line skate wheels) and a sturdy base are two essential characteristics for business travel luggage.
-- The more compartments, the better. A large number of small pockets can really come in handy. Having enough compartments to separate personal care items from important documents and business suits will make your trip less stressful. You shouldn't have to worry about your shampoo exploding onto your business suit when you're trying to concentrate on your next presentation or on closing that deal.
Of course, if you travel a lot, you'll also want to consider characteristics such as durability, expandability, warranty, and price when picking out luggage. Just remember that, as a business traveler, you can make your life easier by only packing what you really need, notes AP9 Business Max.
About AP9 Business Max:
AP9 BusinessMax is a leading membership discount program offered by Adaptive Marketing LLC. Headquartered in Norwalk, Conn., Adaptive Marketing is a category leader in membership programs, bringing value direct to consumers through an array of benefits in healthcare, discounts, security, personal property and personals. Members may access their benefits at BusinessMax123.com. With broad online and offline distribution capabilities, Adaptive Marketing offers its corporate client partners effective tools to enhance market presence, strengthen customer affinity and generate additional value through programs such as AP9 Business Max.
###