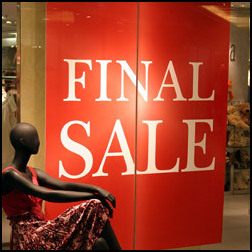 Norwalk, Conn. (PRWEB) March 6, 2007
As winter heads into its final stretch and fashion outlets start making way for their spring lines, members of AP9 Companies, which offer many of the nation's leading discount shopping programs through Adaptive Marketing LLC, know that they can track down great deals on apparel for the coming year -- especially next winter.
The change of seasons always brings a change to the shelves of department stores and other clothing retailers, who need to sell off their older inventory to open up space for the coming season's apparel. To do so, these outlets drastically reduce the regular retail price -- sometimes by as much as 80 percent -- on brand-name and other items.
Before heading out to take advantage of the various end-of-season sales, be sure to take a look at these handy shopping tips, brought to you by AP9 Companies:
-- Stick with what works. Stock up on those wardrobe staples that never go out of style -- blue jeans, flannel shirts, long-sleeve cotton tops and other basics.
-- Make a solid investment. Solid-color clothes are always easier to mix and match than, say, plaids and stripes are, and solid colors are always in fashion. Dependable color choices include black, dark blue, brown, white, red and gray.
-- Stay off last season's bandwagon. Fads are notoriously fickle -- what's hip and chic today can be a source of ridicule next year, as the clogs craze of the mid-1980s so amply demonstrates. The best way to stay on the cutting edge of fashion is to buy the trendy togs at the beginning of a season, not at the end of it.
-- Prepare for future growth. Shopping for children can be a crapshoot. One day, they're a size 6; the next day, a size 8. Be sure to add at least one size when shopping for next winter's children's clothing so they'll have room to grow into them.
-- Timing is everything. Be sure to compare prices between stores, of course, but don't automatically jump at the first advertised markdown. As the spring season gets closer and closer, stores will try to reduce their winter inventories by dropping their prices more and more, so the deepest discounts often come at the end of the sales season, not at the start.
-- Protect your investments. Keep next winter's clothes fresh and new by storing them in garment bags or airtight boxes that will safely preserve them until they're needed.
With a minimum of planning, consumers can boost their end-of-season-sales savings by up to 20 percent when they pre-purchase gift cards and gift certificates to top retailers through the various discount shopping programs offered by AP9 Companies.
###