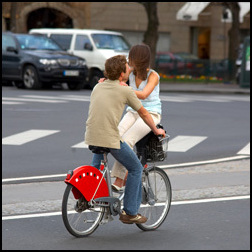 Norwalk, Conn. (PRWEB) April 10, 2007
Bike riding is not only good for you, it's good for the planet, reports AP9 Connections, a leading entertainment discount membership program offered by Adaptive Marketing LLC. Global considerations aside, though, bike riding is best enjoyed when you employ safe riding methods.
Millions of people each year hop on their bicycles for fun, exercise or even just to get to work. Unfortunately, due to a variety of factors, from weather conditions to motorist errors to bicyclist errors, annual biking injuries typically run into the thousands. Bicycling is too enjoyable and worthwhile a pursuit to have it marred by scraped knees, broken bones or worse, which is why AP9 Connections offers cyclists the following safety reminders as May approaches and we celebrate National Bicycle Month:
-- Protect the noggin. Even a fall from a stationary bike can do damage to the head, so imagine how dangerous a fall might be at ten, twenty or thirty miles an hour can be. Fortunately, there are a variety of bike helmets on the market today that are designed to absorb high-speed impacts and protect the cranium. These helmets work best when they're intact, though, so be sure to inspect the helmet after a crash and replace it if it's cracked or otherwise damaged.
-- Respect the rules of the road. Traffic laws apply equally to bicyclists and motorists, so stay on the right side of the road, obey all red lights and stop signs, yield as instructed by road signs, and always use hands signals to alert traffic in all directions before making a turn.
-- Make your presence obvious. Motorists tend to pay more attention to other cars than to bicyclists or pedestrians, and this relative inattention can be perilous to a biker's safety. Be sure to wear bright clothing at all times when cycling. For nighttime or early-morning cycling, make sure your bicycle has a headlight on the handlebars or above the front tire, as well as reflective panels or a red light beneath the seat or attached to the rear fender. Reflective tape can be easily applied to clothes for increased visibility.
-- Teach your children well. Youngsters are, by nature, inexperienced bike riders, unfamiliar with traffic laws, not to mention the laws of physics and the consequences of challenging those laws. If possible, enroll your kids in a bicycle safety class, then make sure they heed those lessons every time they ride. At the very least, make sure they always wear bright clothing, stay off heavily-trafficked roads and only ride their bikes in bright daylight. When taking the family out on a group ride, let the kids dictate the pace to ensure that no one gets left behind.
-- Tune up the bikes. Bikes run down and need tune-ups just as cars do, which is why most bicycle shops offer maintenance and repair services. Keep an eye out for worn brake pads, loose screws, dirty or unoiled chains, and other signs of disrepair.
Bicycling is good for the body, mind and planet, so head out on a bike this May and enjoy National Bicycle Month -- safely and securely, urges AP9 Connections.
About AP9 Connections
AP9 Connections is a leading membership discount program offered by Adaptive Marketing LLC. Headquartered in Norwalk, Conn., Adaptive Marketing is a category leader in membership programs, bringing value direct to consumers through an array of benefits in healthcare, discounts, security, personal property and personals. Members may access their benefits at Connections123.com. With broad online and offline distribution capabilities, Adaptive Marketing offers its corporate client partners effective tools to enhance market presence, strengthen customer affinity and generate additional value through programs such as AP9 Connections.
###