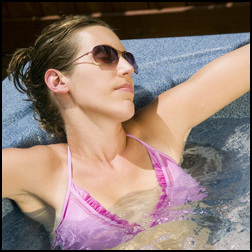 Norwalk, Conn. (PRWEB) April 11, 2007
When people start thinking about the summer, the first thing that may come to mind is the beach or pool. For women, the second thing that may come to mind is "Where do I find the best swimsuit for my body type?" AP9 Galleria USA, a leading membership discount program offered by Adaptive Marketing LLC, understands how hard it can be to find a stylish swimsuit that fits properly, which is why this year AP9 GalleriaUSA reveals the secrets to finding the perfect bathing suit at discounted prices.
AP9 Galleria USA members receive savings of up to 20% at popular department and discount stores, home furnishing and accessory outlets, and even health and beauty retailers. This year in addition to savings, AP9 GalleriaUSA members will also be able to shop for the right swimsuit by adhering to the following guidelines:
-- Timing is everything. Finding the right bathing suit is about blocking time out of our busy schedules to shop early for the best selections. More styles, colors, and sizes are available before the season starts around April or May. Don't wait until the weekend before going on vacation to start looking because special fits, like petite or plus sizes, may be gone from the racks.
-- Try it all on. Have an open mind and try as many styles as possible. This is the key to finding the right one. Don't judge a bathing suit by its cover… well; don't judge it while it is still on the hanger. Trying it on and seeing how it looks on our body could be a pleasant surprise. Another good idea is to grab as many styles and sizes as possible to help save time.
-- Get a move on. Walking around, sitting and standing in the swimsuit are good ways to separate the good bathing suits from the ones that only look good. If it's uncomfortable, if the straps slide off or if the bottom rides up, it's better to keep looking because it's surely not the right size or style.
-- Hide and seek. The rule of thumb here is to show off one's best assets and hide the little imperfections. There are bathing suit styles for every body type. Women with wide hips can try boy shorts while women with long torsos or wide waistlines can try a tankini swimsuit.
-- Make a day of it. Bringing an honest friend to help choose the right suit is always a good idea. Shopping for a good swimsuit is not something that can be done over the lunch hour. Quality time and patience are key to finding the one suit - or a few - that will make this summer much more entertaining.
Members of AP9 Galleria USA can take advantage their 20% discount off gift cards to a plethora of nationally-known retail stores. Finding a flattering swimsuit and getting it at a discounted price is the perfect combination for every woman out there, concludes AP9 GalleriaUSA.
About AP9 Galleria USA
AP9 GalleriaUSA is a leading membership discount program offered by Adaptive Marketing LLC. Headquartered in Norwalk, Conn., Adaptive Marketing is a category leader in membership programs, bringing value direct to consumers through an array of benefits in healthcare, discounts, security, personal property and personals. Members may access their benefits at Galleria123.com. With broad online and offline distribution capabilities, Adaptive Marketing offers its corporate client partners effective tools to enhance market presence, strengthen customer affinity and generate additional value through programs such as AP9 Galleria USA.
###