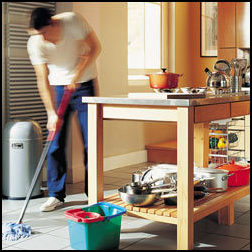 Please don't track mud/dirt/grime into the house.
Norwalk, Conn. (PRWEB) March 7, 2007
In the never-ending struggle to keep a clean house, AP9 HomeWorksPlus, a leading membership discount program from Adaptive Marketing LLC, offers its members tips on how to make walls shine and floors sparkle more efficiently.
With spring fast approaching, those "spring cleaning" chores will go a lot quicker -- leaving more time for outdoor pursuits -- with some helpful timesaving tips. AP9 HomeWorks Plus suggests five ideas that will eliminate overall clutter, save time and perhaps even make anti-grime spokesman "Mr. Clean" green with envy:
-- Clean top to bottom. When dusting, for example, start at the top and work down. Those "dust bunnies" can be stubborn, so use both a wet and dry rag when fighting off dirt, build-up and cobwebs.
-- Divide and conquer. Everyone one has a preferred method, but AP9 HomeWorksPlus suggests taking all needed cleaning supplies into each individual room. This will cut down on unnecessary back-and-forth trips and save on overall cleaning time.
-- That's fresh. The fresher-smelling the house, the cleaner it probably is. Try using baking soda or another carpet freshening product at night, and then vacuum the next morning.
-- Welcome mats stop unwelcome dirt. A welcome mat is not only a nice personal touch for guests and visitors, it also serves as a great dirt picker-upper/knocker-offer. Keep a large welcome mat out front to be cordial, but more importantly, use it as a friendly reminder: "Please don't track mud/dirt/grime into the house."
-- Make it a family affair. When it comes to keeping things clean over extended periods, get the whole family involved. Assign specific jobs and areas of responsibility to each family member. For example, put one person in charge of running the dishwasher before the day's end. Instruct another, perhaps, to bring dirty clothes down to the laundry room. The more concise the routine, the easier it is to maintain.
AP9 HomeWorks Plus offers these tips solely as advice. Cleaning and keeping things neat doesn't have to be an exact science. It just needs a routine that works best for all those concerned. In simple terms, just do what works. But if that tried and true cleaning routine seems to be falling short of expectations, just fall back on these and a host of other helpful tips from AP9 HomeWorksPlus.
About AP9 HomeWorks Plus
AP9 HomeWorksPlus is a leading membership discount program offered by Adaptive Marketing LLC. Headquartered in Norwalk, Conn., Adaptive Marketing is a category leader in both membership and loyalty programs, bringing value direct to consumers through an array of benefits in healthcare, discounts, security, personal property and personals. Members may access their benefits at HomeWorksPlus123.com. With broad online and offline distribution capabilities, Adaptive Marketing offers its corporate client partners effective tools to enhance market presence, strengthen customer affinity and generate additional value through programs such as AP9 HomeWorks Plus.
# # #