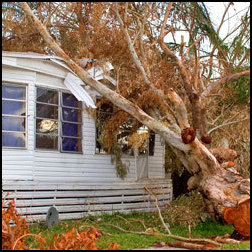 Everyone talks about the weather, but nobody does anything about it.
Norwalk, Conn. (PRWEB) June 13, 2007
Incidents of severe weather, from tornados and hail storms to blizzard conditions and extreme thunderstorms, are clearly on the rise, reports AP9 HomeWorksPlus, a leading membership discount program offered by Adaptive Marketing LLC. These weather events increase the risk of harm to loved ones and property, so it's vital that people know how to keep themselves safe.
Whether it's a prolonged stretch of killer tornados in the Midwest, heat waves out west or Category-3 hurricanes along the Gulf Coast, severe weather seems to have taken root in the United States, and it shows no signs of leaving any time soon. While witnessing the power and glory of Mother Nature can be awe-inspiring, it can also be very costly, in terms of property damage and injuries or fatalities suffered by humans, notes AP9 HomeWorks Plus.
Like the old saying goes, "Everyone talks about the weather, but nobody does anything about it." Well, AP9 HomeWorks Plus has a few tips on what people can do to protect their family and themselves against extreme weather events in the summer:
-- Prepare a disaster supplies kit. Stock the kit with enough materials to last several days. Include clothes; canned food (and a can opener); at least three gallons of water per person; a first-aid kit; any and all necessary medications, including prescription drugs; sleeping bags; portable radio and flashlight (and batteries). Keep the supply kit stocked throughout the year, and refresh the contents with new food and medications as needed.
-- Create an emergency plan for every possible situation. Make sure everyone in your family knows what to do during a tornado, a hurricane, a flash flood and any other severe weather event. Determine the safest place to gather in your home, agree on a rendezvous spot (a local school or hospital, for instance) in case you're separated after a severe storm, and set up an out-of-state friend or relative who can act as a contact person as needed. Write all the information down, and make sure everyone has a copy stored in a safe, accessible place.
-- Conduct an emergency drill before bad weather strikes. Practice makes perfect, and that applies to severe weather incidents as much as it does to, say, playing baseball. Prepare the supply kit, and show everyone where it's stored, suggests AP9 HomeWorksPlus. Delegate pre-storm duties (storing lawn furniture, closing curtains, bringing pets inside, etc.), and walk everyone through their chores. Decide where the family should go in the event of a tornado (preferably a windowless room in the center of the lowest floor in the house), and remind them to bring cushions or other protective layers to guard against flying objects and/or collapsing walls. Take everyone to the agreed-upon rendezvous point, and determine the safest route for getting there. If you have a back-up generator, make sure everyone knows how to turn it on and use it.
-- Discuss post-storm dangers. After severe weather events leave, certain risks remain. Point out areas around the home and neighborhood where downed power lines, floodwaters or other factors may be a threat after the storm passes.
Severe weather presents great risks to both people and property, but by taking a few precautions, you can reduce the risks that your family faces, notes AP9 HomeWorks Plus.
About AP9 HomeWorks Plus:
AP9 HomeWorksPlus is a leading membership discount program offered by Adaptive Marketing LLC. Headquartered in Norwalk, Conn., Adaptive Marketing is a category leader in membership programs, bringing value direct to consumers through an array of benefits in healthcare, discounts, security, personal property and personals. Members may access their benefits at HomeWorksPlus123.com. With broad online and offline distribution capabilities, Adaptive Marketing offers its corporate client partners effective tools to enhance market presence, strengthen customer affinity and generate additional value through programs such as AP9 HomeWorks Plus.
###