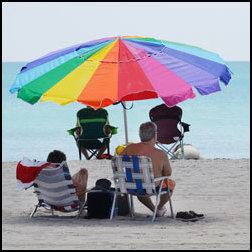 In the summertime when the weather is high, you can stretch right up and touch the sky
Norwalk, CT (PRWEB) June 20, 2007
AP9 Passport to Fun, a premier recreation and entertainment savings program offered by Adaptive Marketing LLC, wants its members to have a great time outdoors this summer. The folks at AP9 PassportToFun know, though, that for most of us, summer fun often means exposure to lots of heat and dangerously high temperatures. And that can mean trouble -- especially during the dog days that will surely come later this summer.
When erstwhile British pop band Mungo Jerry released "In the Summertime," in May 1970, they could not have known the impact they would have on the post-hippie music scene and again later on all of popular culture.
Given those now-famous lyrics: "In the summertime when the weather is high, you can stretch right up and touch the sky," chances are they didn't think that the seemingly happy-go-lucky, bubblegum ballad would ever lead to ad campaigns extolling the virtues of reliable automobile coolants, sunscreens with high protection factors (or SPFs), and awareness programs geared to recognize and fight back against heat-related maladies.
With that in mind, AP9 Passport to Fun suggests the following ways to "touch the summer sky," while still keeping kids, adults and pets shielded from the harmful heat:
-- Name that swoon. Understanding the difference between heat exhaustion and heat stroke is key -- especially when the "three h's" (hazy, hot and humid) make the summer scene. To prevent both, fight back with another set of "h's," by staying hydrated, hiding from extreme heat, and hitting a pool, lake, ocean or river near you when possible. If heat stroke is suspected (when the body cannot cool itself off using the steps described above), call a doctor immediately.
-- Never my love. Here's an easy one: Don't ever leave a child, pet or elderly person in a car that's sitting out in the hot summer sun. Not with the windows open, not for a minute and not ever. Enough said.
-- Don't lose your cool. If you find yourself in very hot climes during the summer months, be smart. Cool your body off by spending some time in air conditioning, and don't overexert yourself. If, for example, you enjoy outdoor exercise, do it very early in the morning or after sundown.
-- Chug-a-lug a lot o' water. The human body is two-thirds water, so it needs to stay replenished at all costs -- especially in the summer heat. Again, for kids, pets and especially older adults, take frequent water breaks.
AP9 PassportToFun also features other helpful tips on everything from great entertainment bargains to dining deals to family getaways. Want more fun for less? Be sure to visit AP9 Passport to Fun.
About AP9 PassportToFun
AP9 Passport to Fun is a leading membership discount program offered by Adaptive Marketing LLC. Headquartered in Norwalk, Conn., Adaptive Marketing is a category leader in membership programs, bringing value direct to consumers through an array of benefits in healthcare, discounts, security, personal property and personals. Members may access their benefits at PassportToFun.com. With broad online and offline distribution capabilities, Adaptive Marketing offers its corporate client partners effective tools to enhance market presence, strengthen customer affinity and generate additional value through programs such as AP9 PassportToFun.
###