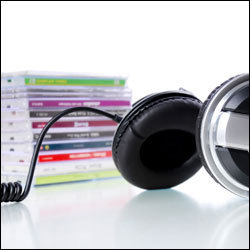 Both Sides of the Gun.
Norwalk, CT (PRWEB) July 25, 2007
Even though the summer is already starting to wind down, the fun is only just beginning for music lovers. According to AP9 Passport to Fun, a premier entertainment savings program offered by Adaptive Marketing LLC, there will be plenty of hip, new CD releases to choose from in the coming months.
Since there are several highly-anticipated albums that are expected to be released at the end of the summer, the transition into the fall season will be easier than usual this year -- for casual and die-hard music fans alike. Regardless of the genre, from alternative to rap, country to hard rock, there's a new CD release for everybody. In fact, some of today's most popular artists, from every corner of the music industry, are scheduled to release their latest albums in August and September, reports AP9 PassportToFun.
And with the help of AP9 Passport to Fun, members can add the hottest new albums to their CD collections -- for less! As the hits keep coming, there's only one thing left to worry about -- finding enough room on your iPod. Here are some of the dates for the hottest new album releases (please note that release dates are subject to change without notice):
-- August 28: Ben Harper and Kanye West. Tuesday, August 28, is a big day in the world of music. Ben Harper, one of the most respected folk guitarists in the world, is scheduled to release his 11th album, "Lifelines." Harper, who just finished his worldwide tour with Damian Marley, debuted at #7 on the Billboard charts in 2006 with his last album, "Both Sides of the Gun." Meanwhile, hip-hop superstar Kanye West is also slated to drop his latest album that day. West, who emerged as one of the most popular artists in the world with his 2004 album, "The College Dropout," is sticking with the college theme on his latest CD, "Graduation."
-- September 4: 50 Cent. 50 Cent, arguably the most famous rapper on the planet today, will release his much-anticipated third studio album, "Curtis," on Tuesday, September 4. According to 50 Cent himself, as well as several sources in the hip-hop industry, "Curtis" will be just as aggressive as his previous albums, "Get Rich or Die Tryin'" and "The Massacre." The first single from the album, "Straight to the Ban," was released in April of this year. Based on 50 Cent's track record, expect the album to be a hit.
-- September 11: Ani DiFranco. Veteran guitarist, singer and songwriter Ani DiFranco is ready to release her much-anticipated 2007 album, "Canon." DiFranco, who has released one album ever year since 1990, won Best Recording Package at the Grammy Awards in 2004 for her album "Evolve." Thanks to her signature staccato style and tracks with strong political overtones featured on "Canon," the sometimes-controversial DiFranco could make another run at music's most prestigious prize.
--September 18: James Blunt. Grammy-nominated singer James Blunt is scheduled to release his second studio album on Tuesday, September 18. The first single from the CD, titled "1973," will be released in July. Blunt, who became the first British artist to top to the American singles chart in nearly ten years with his song "You're Beautiful" in 2006, will stick to his trademark style -- a mix of acoustic guitar and pop -- on his newest album, "All the Lost Souls."
With several excellent artists ready to release brand-new albums just around the corner, it's a great time to be a music fan, concludes AP9 PassportToFun.
About AP9 Passport to Fun
AP9 PassportToFun is a leading membership discount program offered by Adaptive Marketing LLC. Headquartered in Norwalk, Conn., Adaptive Marketing is a category leader in membership programs, bringing value direct to consumers through an array of benefits in healthcare, discounts, security, personal property and personals. Members may access their benefits at PassportToFun.com. With broad online and offline distribution capabilities, Adaptive Marketing offers its corporate client partners effective tools to enhance market presence, strengthen customer affinity and generate additional value through programs such as AP9 PassportToFun.
###