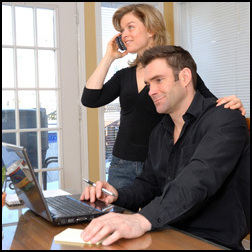 Norwalk, CT (PRWEB) April 12, 2007
Credit score compatibility probably isn't tops on the list of factors to weigh before popping (or answering "yes" to) the big question, reports AP9 PrivacyMatters, a leading security and privacy membership program offered by Adaptive Marketing LLC. Nevertheless, the influence that credit scores can hold over your financial future raises a legitimate question about whether your marital status can have unforeseen credit consequences.
Banks and other financial institutions use credit scores to help determine whether someone is worthy of receiving a loan or a line of credit -- and at what interest rate, notes AP9 Privacy Matters. A higher credit score can lead to a more favorable (i.e., lower) interest rate. A lower score suggests a higher credit risk and typically results in a higher interest rate. Should you therefore hold off on marrying the love of your life until his or her credit score can promise more favorable credit terms?
AP9 PrivacyMatters prefers to leave any and all marriage decisions up to each couple, but we can offer a few insights about how your marital status can (and can't) affect your credit score:
-- Your marriage is none of their business. Per the Equal Credit Opportunity Act (ECOA), credit scoring systems are not allowed to use marital status as a factor. Along the same lines, banks, credit card issuers, real estate brokers and other parties who arrange financing aren't allowed use your marital status as a factor in deciding whether to extend you credit -- they're not even allowed to inquire as to whether you're divorced or widowed. There are exceptions to the "no questions allowed" rule (in the event, for instance, that you're applying for a joint account or a loan that uses property as collateral), but even then, they're limited to the terms "married," "unmarried" or "separated."
What this means is that your marital status won't affect your personal credit score. However, as noted above, a bank or other creditor can include your spouse's individual credit rating as a factor in a decision regarding joint loans or joint accounts.
-- Divorce, on the other hand, can influence your credit score. It's not the divorce itself that can affect a credit score so much as the financial behavior that occurred during (and, sometimes, after) the marriage. A credit score is a measure of a person's credit history, and oftentimes, a married couple will set up accounts in one spouse's name rather than in both names. The "unnamed" spouse's credit history can all but disappear from the credit bureaus' radar, especially for a wife who takes her husband's name in marriage. Divorced, separated and even widowed spouses should therefore contact the three credit bureaus (TransUnion, Equifax and Experian) to ensure that his or her credit information is in his or her own file.
Alimony, child support, and other financial arrangements of a divorce can be used by creditors when making a loan or credit decision -- as can late payments in any of these matters, which can be a strong motivation for making payments on time. Other factors to keep an eye out for during the divorce process include divvying up open accounts (including bank accounts and utility bills) to one party or the other; informing certain creditors that their accounts are no longer in your name; staying up-to-date on all bill payments (even those that will ultimately be assigned to your ex-spouse) to ensure that creditors don't come after you; and closing joint accounts or removing one party's name from them.
If you're about to get married, you deserve wishes for a lifetime of happiness and good fortune. In any event, it's always a good idea to keep your finances in order, reports AP9 Privacy Matters.
About AP9 PrivacyMatters
AP9 Privacy Matters is a leading membership program offered by Adaptive Marketing LLC that provides consumers with unlimited, online access to their credit reports and scores, including the option to review their credit files from all three credit reporting agencies, credit monitoring, and more. Headquartered in Norwalk, Conn., Adaptive Marketing is a category leader in membership programs, bringing value direct to consumers through an array of benefits in healthcare, discounts, security, personal property and personals. Members may access their benefits at PrivacyMatters.com. With broad online and offline distribution capabilities, Adaptive Marketing offers its corporate client partners effective tools to enhance market presence, strengthen customer affinity and generate additional value through programs such as AP9 PrivacyMatters.
###