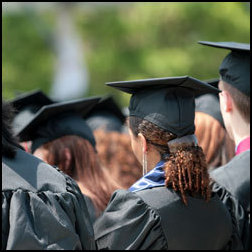 the best years of their lives.
Norwalk, CT (PRWEB) June 13, 2007
Identity theft is a serious crime that affects thousands of people across the nation every year, reports AP9 Privacy Matters 1-2-3, a leading security and privacy membership program offered by Adaptive Marketing LLC. And perhaps surprisingly, college students make up a big part of the demographic group that faces the greatest risk of ID theft.
According to a recent study conducted by the Javelin Strategy and Research Institute, adults between the ages of 18 and 24 are the most at risk of having their identities stolen. The study revealed that 5.3 percent of people in the 18-24 age group reported being victims, compared to the national average of 3.7 percent. College students may be the perfect targets for identify thieves to prey upon, since they're less likely to take precautionary steps such as shredding banks statements and using virus protection on their computers.
Recovering from identity theft can be expensive and time-consuming, so it's vital that everyone take the appropriate steps to protect their identity from thieves. Because college students are at greater risk, AP9 Privacy Matters 123 offers the following tips for avoiding the perils of identity theft:
-- Destroy any paperwork with sensitive information. Make sure to shred all college loan documents that you no longer need, along with credit card offers, suggests AP9 Privacy Matters 1-2-3. Since credit card companies first start contacting young adults when they begin college, it is imperative not to let anyone else access credit card mailings with your name on it. Don't just throw junk mail that includes personal information into the trash by the campus mailbox--shred it first. Identity thieves can use the mailings to open up an account in your name.
-- Don't write your Social Security number on checks or college loan documents. Be sure to keep the number out of any paperwork that may fall into unauthorized hands. Social Security numbers are needed to fill out paperwork for your college institution and W-4 forms for employment purposes, of course, but consider these exceptions to the rule.
-- When leaving campus to go to a club or a restaurant, only carry the credit or debit card(s) that you need. This will prevent a lot of headaches if your wallet is lost or stolen. Also, do not carry your Social Security card around, especially in your wallet or purse.
-- Don't use obvious passwords or PIN numbers for your bank accounts. "Obvious" passwords/PINs include birthdays and family names. Every time you use an ATM, guard the keypad when entering your PIN. If you need to store your passwords, be sure to hide them in a safe place, cautions AP9 Privacy Matters 123.
-- Monitor your credit card and bank statements on a regular basis. If you see any suspicious charges, investigate immediately.
College graduates often remember those years spent on campus as "the best years of their lives." Current college students who want to make the same claim should take the necessary steps to guard their identity, suggests AP9 Privacy Matters 1-2-3.
About Privacy Matters 123:
AP9 Privacy Matters 1-2-3 is a leading membership program offered by Adaptive Marketing LLC that offers consumers instant, online access to 3 in 1 credit reports and scores, daily Triple Bureau credit monitoring and more. Headquartered in Norwalk, Conn., Adaptive Marketing is a category leader in membership programs, bringing value direct to consumers through an array of benefits in healthcare, discounts, security, personal property and personals. Members may access their benefits at PrivacyMatters.com. With broad online and offline distribution capabilities, Adaptive Marketing offers its corporate client partners effective tools to enhance market presence, strengthen customer affinity and generate additional value through programs such as AP9 Privacy Matters 123.
###