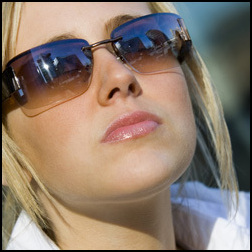 Norwalk, Conn. (PRWEB) April 11, 2007
AP9 SavingSmart, a leading membership discount program offered by Adaptive Marketing LLC, understands that looking cool is the name of the game. That's a big reason why AP9 Saving Smart offers its members several valuable tips when shopping for stylish eyewear this spring.
AP9 SavingSmart reminds members that buying the right eyewear is important in any season, but acknowledges that there's something about spring that makes purchasing sunglasses extra special. So to keep in line with spring's rebirth, treat those eyes to an optical renaissance -- with these four helpful buying tips:
-- Face facts. There's no doubt that "specialized" sunglasses are all the rage, but the shape and the contours of one's face largely determine the ideal purchase. So before it's time to honor the highway patrol, pay tribute to Buddy Holly or emulate the Terminator, make sure the sunglasses of choice best complement your look.
-- Reflect and deflect. Certain sunglasses not only look cool, they can also reduce glare and make driving a lot safer. If both work and play tend to lead to a lot of time behind the wheel, polarized or mirrored sunglasses might make good sense.
-- Keep an eye on the "long" view. While sunglass purchases are usually more about style than practicality, metal or lightweight composite frames are good for the long haul. Name-brand sunglasses tend to be more durable than many others. Spending a few extra bucks on a pair of sturdy shades that will last is not only still way cool, it's also smart.
-- And then there's all the bells and whistles. If one goal of a future sunglasses purchase is to get all the extras, consider those with special features like scratch-resistant coatings, anti-reflective and even waterproof features. These may add to the cost but can improve the functionality. Other state-of-the-art shades also feature anti-UV-A and UV-B ray devices -- both of which are helpful in fighting potentially serious eye problems.
According to AP9 SavingSmart, another way to save on great eyewear and other useful items is simply to utilize the Internet. When it comes to looking cool for less, AP9 SavingSmart reflects all these values and more. And when it comes to items that help welcome back spring, everything is just a mouse click away, suggests AP9 Saving Smart.
About AP9 SavingSmart
AP9 SavingSmart is a leading membership discount program offered by Adaptive Marketing LLC. Headquartered in Norwalk, Conn., Adaptive Marketing is a category leader in membership programs, bringing value direct to consumers through an array of benefits in healthcare, discounts, security, personal property and personals. Members may access their benefits at SavingSmart.com. With broad online and offline distribution capabilities, Adaptive Marketing offers its corporate client partners effective tools to enhance market presence, strengthen customer affinity and generate additional value through programs such as AP9 Saving Smart.
###