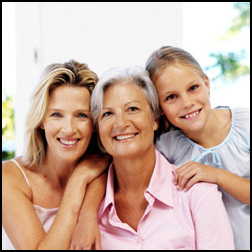 Norwalk, Conn. (PRWEB) April 11, 2007
The time to honor the most special women in the world - mothers - is just around the corner. And, even though mothers should be loved and appreciated every day of the year, the second Sunday of May is the "official" day for sons and daughters to gather together and show their gratitude for their number one cheerleader - mom. But, something to keep in mind when selecting that perfect gift of thanks this year - mothers are women too - and all women were not created equal in the departments of style and taste. This is why AP9 ShoppingEssentials, a leading membership discount program offered by Adaptive Marketing LLC, presents some gift ideas that will make Mom feel extra special.
Members of AP9 Shopping Essentials can take advantage of money-saving deals that would make any son or daughter's pocketbook jump for joy as well as gather ideas for a traditional or contemporary Mother's Day gift. The program offers savings and discounts at many nationally-known retail stores, florists, and health and beauty outlets all over the country - so members can shop for the right gift while saving money.
In addition, AP9 ShoppingEssentials has put together a list of gifts that never go out of style:
-- Say it with flowers. Forget about the regular bouquets found at the local grocery store. This year give the gift of potted flowers or a beautiful plant - especially if Mom has a green thumb. And, if gardening is not her forte, a perennial plant can be used as a nice center piece somewhere in the house or outside on the patio.
-- Pack up the memories. Put together a scrapbook of the good ole' days - a unique and heartfelt gift idea. The scrapbook could include pictures of birthday parties, sporting events, school dances and, of course, awards - something any Mom would cherish for years to come. From a first report card to a picture on prom night - it's the ingredients to remind her that she should be proud to be a Mom.
-- Give her a break. This Mother's Day make it a day centered on her. From a spa visit to dinner at her favorite restaurant, a getaway from the daily grind will make her feel appreciated grind.
-- Send her on her merry way. If you have the funds to splurge this Mother's Day, why not surprise Mom with a vacation package that will take her places she has only dreamed of. Whether it is a cruise or visiting an out-of-town friend, Mom will undoubtedly be thrilled to get away for a while.
Mother's Day comes only once a year so make it a day she will remember for years to come, recommends AP9 Shopping Essentials.
About AP9 ShoppingEssentials
AP9 Shopping Essentials is a leading membership discount program offered by Adaptive Marketing LLC. Headquartered in Norwalk, Conn., Adaptive Marketing is a category leader in membership programs, bringing value direct to consumers through an array of benefits in healthcare, discounts, security, personal property and personals. Members may access their benefits at Shopping-Essentials.com. With broad online and offline distribution capabilities, Adaptive Marketing offers its corporate client partners effective tools to enhance market presence, strengthen customer affinity and generate additional value through programs such as AP9 ShoppingEssentials.
###