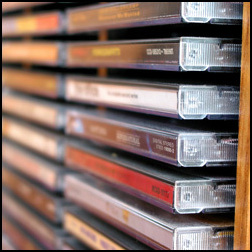 Norwalk, Conn. (PRWEB) April 13, 2007
During the summer, visits to the beach and long poolside gatherings with family and friends are even more enjoyable when accompanied by music that will make everyone sing along, perform "air guitar" jams or even dance a little. AP9 SimpleEscapes, a premier travel and entertainment savings program offered by Adaptive Marketing LLC, reports that this summer offers plenty of new, fun musical releases to choose from.
Whatever their tastes are, members of AP9 Simple Escapes count on their money-saving entertainment benefits to add some new names to their CD collection. Here are some of the releases coming out in the months of April, May and June (please note that release dates are subject to change without notice):--April 17. Avril Lavigne, "The Best Damn Thing." This young Canadian punk-pop star is making a comeback with a third album, after getting married and branching out into acting. Avril decided on a more upbeat tone for this album, which includes some catchy sing-along lyrics as well as some strong words here and there, a touch of aggressiveness that made the record label add the Parental Advisory logo to the cover. Fans will notice a more mature side of Avril, with the same spice that made her so popular at 17, when she released her first CD.-- April 24. Yoko Ono. "Open Your Box [remixes
". The nostalgia of the early '70s, along with an undertone of the political and social turmoil that Yoko represents, comes back in '07 -- with a twist. This is a compilation of the remix singles that have been released since 2001, in addition to some new mixes that bring the '70s to the new century. This timeless piece for music lovers includes collaborations by Pet Shop Boys, Felix da Housecat, Orange Factory, Murk and Bimbo Jones, among others.
-- May 1. Tori Amos, "American Doll Posse." Those who know Ms. Amos know two things for sure: she's a superb talent, and she's a bit unconventional. With this album, Amos doesn't disappoint. She composes, sings, plays, records and produces her music in her cottage in Cornwall, Scotland, and for this '07 album, her pose involves four women (Isabel, Pip, Clyde and Santa) who live inside of the same woman: Tori Amos. Look for complexity and great music, all in a multi-media project that will for sure give much to talk about.
-- June 12. Toby Keith. "Big Dog Daddy." The album hasn't hit the shelves yet, and his tour already has more than 50 dates booked until September. The first single, "High Maintenance Woman," is the fastest-rising single in Keith's career to date. These two factors, and the fact that this album is entirely produced by him, make "Big Dog Daddy" one of the most important of his career … so far. It looks like Toby Keith will be here for a while.
Savings on concert tickets, DVDs, books, theme park visits and much more are part of the significant entertainment discounts that members can find through AP9 SimpleEscapes.
About AP9 Simple Escapes
AP9 SimpleEscapes is a leading membership discount program offered by Adaptive Marketing LLC. Headquartered in Norwalk, Conn., Adaptive Marketing is a category leader in membership programs, bringing value direct to consumers through an array of benefits in healthcare, discounts, security, personal property and personals. Members may access their benefits at SimpleEscapes123.com. With broad online and offline distribution capabilities, Adaptive Marketing offers its corporate client partners effective tools to enhance market presence, strengthen customer affinity and generate additional value through programs such as AP9 Simple Escapes.
###