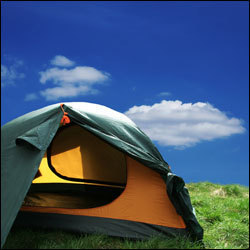 Hope for the best, be prepared for the worst
Norwalk, CT (PRWEB) July 25, 2007
Reconnecting with Mother Nature on her terms is always a worthwhile activity, reports AP9 SimpleEscapes, a premier travel and entertainment savings program offered by Adaptive Marketing LLC, but the laws of nature are often less forgiving than man-made laws, so it's critical that campers equip themselves with the tools they'll need for every contingency.
"Study nature, love nature, stay close to nature. It will never fail you," said Frank Lloyd Wright, the acclaimed architect who was known for designing houses that complemented their natural surroundings. Campers would do well to follow his lead, not necessarily in their choice of tents but in trying to fit into the local ecosystem rather than leaving a trail of wreckage in their wake. As the effects of climate change begin to bare their severe-weather teeth, it's important to remember that even the subtlest change to an existing environment can have serious, long-lasting implications, notes AP9 Simple Escapes.
Of course, for most campers, long-lasting concerns pale in comparison to today's concerns. Following the camping mantra -- "Hope for the best, be prepared for the worst" -- AP9 SimpleEscapes offers a few suggestions for making your next camping trip a safe, enjoyable outing for the whole family:
-- "First" aid is essential aid. If you're camping deep in the woods (rather than in a commercial campground near civilization), the health of everyone in your group depends upon a fully stocked first-aid kit. Along with the usual basics -- antiseptics, Band-Aids, bandages, ice packs, hydrocortisone cream, insect repellent and snakebite kits, splints, a working flashlight and more -- be sure to pack extra doses of prescription medicines, just in case you're stranded for a while. These days, a GPS tracker and a fully charged cellphone should also be considered mandatory equipment. Along those lines ….
-- Let someone know where you are. GPS trackers can help rescue teams find missing campers, but trackers can break or get left behind. That's why it's important to leave word about your itinerary -- and stick to it. Forest rangers and other search teams stand a much better chance of finding you if they know where to look.
-- Tend the fire. Severe drought conditions in various U.S. locations have increased the risk of raging forest fires recently, which means that campfires may be illegal in certain areas. Even if they're allowed, you need to keep a close eye on any campfire you build. Be sure to have an extra supply of water to douse any embers that may pop out of the fire, and take the time to ensure that the fire is fully extinguished before calling it a night.
-- Don't cater to local wildlife. Animals are our friends, but they're not always friendly. If you're standing between a bear and her cubs, for instance, you're in the wrong place. Research the local area, follow all of the suggested precautions, and pack your food in airtight containers that reduce or, ideally, eliminate aromas that might entice local critters to stop by for a snack. Before turning in for the night, find a high branch away from the campsite where you can hang your food supplies out of reach of the tallest animals in the area.
-- Pack for weather changes. Unless you're camping in, say, Death Valley, you should be ready for uncomfortable temperature swings. Particularly in mountainous regions, daytime and nighttime temperatures can vary by several dozen degrees, and a cold and/or rainy night can turn a fun family outing into a miserable experience if you're unprepared for it. In addition to warm clothes, be sure your sleeping bags can handle chilly climes and your tent is protected from the rain and water build-up on the ground.
Getting back to nature is a perfect way to gain perspective in this fast-paced world, and taking a prepared approach can help ensure that you benefit from that perspective by helping you to return to civilization safely, notes AP9 Simple Escapes.
About AP9 SimpleEscapes
AP9 Simple Escapes is a leading membership discount program offered by Adaptive Marketing LLC. Headquartered in Norwalk, Conn., Adaptive Marketing is a category leader in membership programs, bringing value direct to consumers through an array of benefits in healthcare, discounts, security, personal property and personals. Members may access their benefits at SimpleEscapes123.com. With broad online and offline distribution capabilities, Adaptive Marketing offers its corporate client partners effective tools to enhance market presence, strengthen customer affinity and generate additional value through programs such as AP9 SimpleEscapes.
###