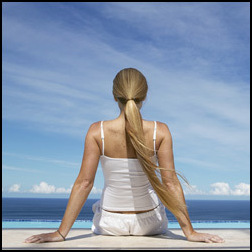 Norwalk, Conn. (PRWEB) March 8, 2007
Summer is quickly approaching. Soon warmer weather will reintroduce itself and bring with it a desire to travel. Over the winter, many exercise enthusiasts worked very hard to either maintain or achieve a "girlish" figure. And for those who are taking a much-needed vacation this summer, a few days away is no excuse to break the exercise habit. This is why AP9 TodaysEscapes, a premier travel and entertainment savings program offered by Adaptive Marketing LLC, has come up with a list of easy and convenient ways to keep in shape while taking a trip.
The first thing to remember is that vacations are vacations -- no stress allowed. Don't settle for the same old daily routine; find creative and fun ways to burn calories while taking in the breathtaking scenic views, recommends AP9 Todays Escapes. Going for a long walk, a run on the beach, or a few laps in the pool are just a few options for keeping the body in shape while on the road.
With a little planning, staying fit while traveling can be easy and fun. AP9 TodaysEscapes offers a few fun fitness tips that won't ruin a vacation but will keep you in shape.
-- Pack with fitness in mind. Pack exercise tubes or bands (those stretchy things that add resistance to your workout) and a jump rope. All of these items are lightweight, portable and inexpensive -- and jumping rope for 30 minutes can burn over 200 calories.
-- Take a break from the daily grind. Trips can be an excellent opportunity to add life to an old fitness routine. A change of scenery, a new exercise or a different intensity can offer a pleasant variation on a fitness routine. Altering an exercise regimen from indoor to outdoor or from running to swimming laps can renew one's appreciation for working out without changing the purpose or goal.
-- Take advantage of hotel facilities. Today, more and more hotels have gyms and pools. Taking advantage of these amenities is convenient and smart. Some hotels provide "fitness kits" for yoga, strength training, or Pilates. Westin hotels even offer a yoga TV channel so guests can participate in a yoga class from the privacy of their own hotel room. Speaking of yoga … the next tip is another favorite.
-- Don't forget the yoga mats. Hollywood stars don't leave home without them, reports AP9 Todays Escapes. If space isn't available to go for a walk or to jump the rope, then a yoga mat comes in handy. Many people believe yoga is not an intense calorie-burning form of exercise, but that's not true. In addition to its relaxing benefits, yoga is one of the techniques that burn the most calories. Yoga is the perfect option for stretching and toning in the hotel room.
-- Use your own strength. One doesn't need fancy equipment to get a good workout while on the road. Jog in place or in the hallway. Push-ups, stomach crunches with an upper-body twist, kneeling back-leg extensions, and one-legged lunges are perfect examples of strength training exercises that can be done virtually anywhere.
Finally, there are three things one should never forget when exercising. First, always warm up for 10-15 minutes before participating in any activity. Second, stretch your muscles, tendons and ligaments before and after the exercise -- each stretch should be held for 15-20 seconds. Third, don't forget to keep hydrated -- drinking plenty of water helps keep the body up with the routine, concludes AP9 TodaysEscapes.
About AP9 Todays Escapes
AP9 Todays Escapes is a leading membership discount program offered by Adaptive Marketing LLC. Headquartered in Norwalk, Conn., Adaptive Marketing is a category leader in both membership and loyalty programs, bringing value direct to consumers through an array of benefits in healthcare, discounts, security, personal property and personals. Members may access their benefits at TodaysEscapes.com. With broad online and offline distribution capabilities, Adaptive Marketing offers its corporate client partners effective tools to enhance market presence, strengthen customer affinity and generate additional value through programs such as AP9 TodaysEscapes.
###