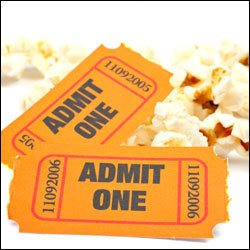 In the Shadow of the Moon
Norwalk, CT (PRWEB) July 24, 2007
The end of summer doesn't mean movie theatres are taking a few months off before holiday releases arrive, reports AP9 Your Savings Club, a leading membership discount shopping program from Adaptive Marketing LLC. In fact, there are a variety of late-summer films that should please fans of every genre.
While the wave of summer blockbusters may have crested, late-summer releases mark the beginning of Oscar® season, the time of year when the movie studios roll out their best bids for Academy Award® consideration. By waiting until the second half of the year, the studios hope to keep these films in the forefront of voters' minds as the nomination process approaches, notes AP9 YourSavingsClub.
While AP9 Your Savings Club has no horse in any race, it can offer a look at some of the movies to keep an eye out for as summer wanes:
-- August 24: "Dedication" is a light-hearted romantic drama about a children's book author who has to team up with a beautiful illustrator after his best friend and creative partner passes away. Starring Mandy Moore and Billy Crudup, "Dedication" marks the directorial debut of Justin Theroux. Also opening is "Mr. Bean's Holiday," Rowan Atkinson's return to the big screen in the comedic role that made him famous.
-- August 31: Exactly two months ahead of time, acclaimed director Rob Zombie launches "Halloween," the latest in the terrifying franchise. In this chapter, Zombie takes the audience back in time to find out where Michael Myers came from -- and why he turned out that way.
-- September 7: The screen version of the bestseller "The Nanny Diaries" hits theatres on this date, starring Scarlett Johansson as Annie Braddock, a working-class lass who takes a job as a mother's helper for an upper-crust family on Manhattan's Upper East Side. Paul Giamatti and Laura Linney play Mr. and Mrs. X, Ms. Braddock's picky employers. Also debuting in a limited release is "In the Shadow of the Moon," a documentary about the Apollo missions from 1968 to 1972 that flew men to the moon and back, featuring previously unseen footage and interviews with the surviving members of these flights. David Sington's film received the World Cinema Audience Award at the Sundance Film Festival earlier this year.
-- September 14: "Moondance Alexander," starring Kay Panabaker, Lori Loughlin, Sasha Cohen and Don Johnson, is a family film inspired by a true story about a young teen who forms a meaningful bond with a possible champion jumping horse. The film was recognized for Outstanding Achievement in Filmmaking -- Family Film by the 2007 Newport Beach Film Festival. Also arriving in theatres is "Mr. Woodcock," a comedy about a man who returns to his hometown to find out that his mother has fallen for the high school gym teacher he despised in his youth. Billy Bob Thornton, Seann William Scott and Susan Sarandon headline a strong cast.
-- September 21: Among the films debuting on this date are "In the Valley of Elah," which stars Tommy Lee Jones, Charlize Theron and Susan Sarandon and tells the tale of a U.S. soldier who goes missing after returning from Iraq; and "Shine a Light," a documentary about the Rolling Stones' last two concert tours, directed by Martin Scorsese.
Movie lovers of every stripe will find something appealing in theatres as fall approaches -- and they're sure to find attractive savings on movie tickets, among other great entertainment values, available through AP9 YourSavingsClub.
About AP9 Your Savings Club
AP9 YourSavingsClub is a leading membership discount program offered by Adaptive Marketing LLC. Headquartered in Norwalk, Conn., Adaptive Marketing is a category leader in membership programs, bringing value direct to consumers through an array of benefits in healthcare, discounts, security, personal property and personals. Members may access their benefits at YourSavingsClub.com. With broad online and offline distribution capabilities, Adaptive Marketing offers its corporate client partners effective tools to enhance market presence, strengthen customer affinity and generate additional value through programs such as AP9 Your Savings Club.
###