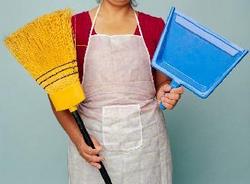 Norwalk, Conn. (PRWEB) February 6, 2008
DealMax (SM), a multi-tiered discount shopping program from Adaptive Marketing LLC, knows that once Groundhog Day has come and gone, spring cleaning often takes center stage. Things in and around the house can take a beating during the winter months, so it pays to have an easy-to-use spring cleaning plan in mind. This way, when the real spring weather finally hits, it'll be that much easier to get all the old, stuffy air out and let all the clean, crisp air back in.
Neglecting home upkeep during the winter months seems, well, about par for the course. And, come spring, that's just where an effective cleaning regimen and home maintenance program can lead -- out of the garage, back yard or attic and straight to the golf course or open-air locale.
So even though the calendar may still read "winter," AP9*DealMax can help kick-start those springtime dreams into high gear, with these handy cleaning tips:

Give in to gravity. Start cleaning at the top of room, and then work on down. Think about it; dirt, grime and dust can't travel up a wall. Clean top-to-bottom, and just follow gravity's lead.
Kill the clutter. Keeping things clean probably works best as a year-round undertaking. This way, when spring fever really hits, it'll be time to hit the beach or the open road -- instead of pounding out the mats and rounding up the dust balls.
Run the fast break. No, AP9 DealMax isn't suggesting that it's time to set up a hoop somewhere in the house; but putting a basket in the kitchen or common area is a great way to keep track of mail, newspapers and those easy-to-lose car keys. Yep, those keys -- the same ones that will drive the family car or boat right out into the sun of a not-too-distant-future spring day.
Pick up before "knock off." There's nothing worse than starting a day off in disarray -- amidst a sea of unfolded laundry, a debris-ridden den and everyone's favorite: a pile of dirty dishes. Make it a point to get everything squared away the night before. It'll make for better slumber.
It's a family affair. Singer/songwriter Sly Stone (born Sylvester Stewart) had it right. Making spring cleaning a "family affair" can make all the difference. Delegate responsibilities, and get the entire family involved.
AP9 DealMax offers these handy cleaning tips to help make spring what it's supposed to be -- a return to the "outside" world after a long winter. So before spring gets here, get an early start. And then celebrate spring's return in style -- with a little help from DealMax.
About DealMax:
AP9 DealMax is a leading membership discount program offered by Adaptive Marketing LLC. Headquartered in Norwalk, Conn., Adaptive Marketing is a category leader in membership programs, bringing value direct to consumers through an array of benefits in healthcare, discounts, security, personal property and personals. Members may access their benefits at MyDealMax.com. With broad online and offline distribution capabilities, Adaptive Marketing offers its corporate client partners effective tools to enhance market presence, strengthen customer affinity and generate additional value through programs such as AP9 DealMax.
###