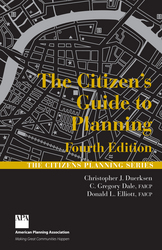 The book has been and will continue to serve as a great educational tool for anyone who cares about their community
Chicago, IL (Vocus) April 27, 2009
What is land-use planning and what does a land-use planner do? The all-new Citizen's Guide to Planning (Fourth edition) answers the who, what, where, when and why of the planning profession.
Published by the American Planning Association 's (APA) Planners Press, The Citizen's Guide to Planning is written for citizens, planning commissioners and others interested in learning how planning shapes their community.
The new edition maintains the objective of the original 1961 publication: a jargon-free explanation of the planning process but addresses the challenges facing communities today, including the need for sustainable community development. The fourth edition is written by Christopher J. Duerksen; C. Gregory Dale, FAICP; and Donald L. Elliott, FAICP; planners with 75 combined years of experience in the planning profession.
"Thinking about the sustainability of our development patterns is no longer optional, it is mandatory," said Duerksen. "The impact of climate change shows that communities are more interconnected than ever before. The role of professional and citizen planners is now more important than ever."
The Citizen's Guide to Planning explains the land-use planning process from start to finish, the key players involved, and the legal framework in which planning decisions are made.
The authors begin by addressing why planning is necessary. They trace the history of the profession from the City Beautiful movement in the late 1800s to the retrofitting of early cities to address public health concerns such as the need for clean water and sewage disposal.
The book explains the roles and responsibilities of individuals that are part of the planning process, including the local planning department, the planning commission and the zoning board. The Citizen's Guide to Planning can be read from cover-to-cover or referenced by chapter for specific information on comprehensive plans, zoning actions and plan implementation.
"The book has been and will continue to serve as a great educational tool for anyone who cares about their community," said Dale. "It is our hope that this book will inspire a whole new generation of concerned citizens."
The first edition of The Citizen's Guide to Planning was published by Herbert H. Smith, FAICP, in 1961. Smith oversaw two updates of his book in 1979 and 1993. He was a planning consultant and graduate planning professor in Denver.
"We wrote the fourth edition carrying on Mr. Smith's mission of helping residents understand how planning has an important role in his or her community," Elliott said.
The Citizen's Guide to Planning (Fourth edition) will be released Tuesday, April 28, 2009, at APA's 2009 National Planning Conference in Minneapolis. The authors are scheduled presenters at the conference. For more information about APA's National Planning Conference, visit http://www.planning.org/nationalconference.
The Citizen's Guide to Planning (Fourth edition) is available through APAPlanningbooks.com for $24.95.
ISBN: 9781932364651
Paperback; 240 pp.
About the Authors
Christopher J. Duerksen
Chris Duerksen is the managing director of Clarion Associates, LLC, a national land-use consulting firm. He is a cofounder of the Rocky Mountain Land Use Institute and has represented local governments, nonprofits, and the private sector in a variety of land-use and zoning matters.
C. Gregory Dale, FAICP
Greg Dale is a founding principal with McBride Dale Clarion, the Cincinnati affiliate office of Clarion Associates. Dale has nearly 30 years of planning experience. He has worked on planning projects throughout the country and has drafted or assisted with award-winning plans for Will County, Illinois; Franklin, Tennessee; and the Southern Nevada Regional Planning Commission.
Donald L. Elliott, FAICP
Don Elliott is a senior consultant with Clarion Associates, LLC. His practice focuses on land planning and zoning, growth management, and international land and urban development issues. In addition to advising U.S. local governments, his practice includes planning and governance projects in Russia, Uganda, India, Indonesia, and Lebanon.
Complimentary review copies for members of the media are available by contacting Roberta Rewers at rrewers (at) planning (dot) org or 312.786.6395.
# # #