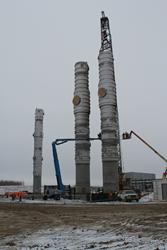 Apache is one of the few vessel manufacturers that can handle this size of evaporator.
Beaver Dam, WI (PRWEB) March 31, 2014
Apache Stainless Equipment Corporation, a manufacturer of ASME pressure vessels, was contracted to provide two large falling film evaporators for a Canadian oil processing operation. Apache's "Large Vessel" fabricators/ welders manufactured the two evaporators, made from 2205 and 2304 duplex materials that were each 13 ft. in diameter and 127 long. Each evaporator has an empty weight of approximately 330,000 lbs. The total operating weight of each evaporator will be approximately 880,000 lbs.
Both evaporators were needed for the Canadian Oil Sands development to extract oil out of the ground. Oils sands, or tar sands are loose sand and sandstone that contain sand, clay and water, which is saturated with a viscous form of petroleum. Oil produced from the Canadian oil sands is referred to as crude oil.
Apache provided the evaporators used to separate the water from the oil. In the process, infused water is pumped out of the ground, cleaned and pumped back into the ground as steam. The steam breaks up and "melts" the oil off the sand trapped in the ground. The oil mixture is then pumped through the evaporators where Apache installed over 3,000 2" diameter tubes into each evaporator. Inside the tubes, the oil and water fluid is subjected to heated steam, which causes the water to turn to steam and the oil separates and falls down the tubes, hence the name falling film evaporator. The separated oil then collects in a pipe where the oil is extracted. The steam is used to go back into the ground as it is now clean to comply with environmental concerns. The process is a continuous loop.
The two large evaporators were delivered utilizing five transports. The evaporators were split in half for transportation purposes, as the heaviest portion containing the tubes weighed over .25 million pounds for each evaporator. According to Ralph Schuh, Director of Operations at the tank manufacturer, "Apache is one of the few vessel manufacturers (North America) that can handle this size of evaporator. We have close to 350,000 sq. ft. manufacturing facilities and an extensive, cross-trained staff of experienced fabricators that are flexible to work on various types of vessels, applications and materials."
Located in Beaver Dam, Wisconsin, Apache Stainless Equipment Corporation serves the fuel industry with many types of specialized tanks, including: distillation columns, evaporators, ASME vessels, API-650 vessels, clad vessels, custom mix tanks and storage tanks.