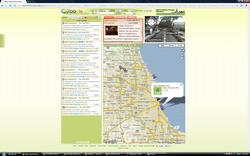 The numbers for the San Francisco Bay Area provide a case in point.
Champaign, IL (PRWEB) March 23, 2009
Apartment hunters can now find over thirty times more online rental apartment listings nationwide, using the new Cazoodle.com Apartment Search website. "The numbers for the San Francisco Bay Area provide a case in point." Stated by Cazoodle's CTO Govind Kabra. "Cazoodle.com's Apartment Search lists over 35,000 rental apartments in the San Francisco Bay Area. By contrast, for the same area, other rental search services such as Rent.com, Apartments.com, MyNewPlace.com and ApartmentSearch.com together offer less than a thousand rental apartment listings." Other locations show similar differences.
Cazoodle.com Apartment Search will publicly launch this national service during the Web 2.0 Expo 2009 being held in San Francisco March 31 - April 3. The service will provide nationwide coverage of the entire United States, including major metropolitan areas such as Boston, Chicago, Dallas, Detroit, Houston, Los Angeles, New York City, Philadelphia, Phoenix, San Francisco Bay Area, and Seattle.
Cazoodle's intelligent crawling software automatically gathers apartment listings from thousands of landlord websites and other online sources, and goes beyond simply providing large numbers of rental apartment search results. Consumers can also take virtual tours of apartment surroundings using Cazoodle's integration with Google street view images. Search results include links to the original websites to facilitate contact with landlords. Landlords and real estate property owners do not pay any fees to get listed on Cazoodle.com. By contrast, other apartment search services often charge fees for rental properties to be listed.
About Cazoodle.com:
Cazoodle.com is a vertical search company that uses proprietary "deep Web" semantic search technology developed by University of Illinois computer science professor Dr. Kevin Chang. The company's Cazoodle.com Apartment Search is the first one-stop apartment search website to combine deep integration of map visualization with apartment rental information. Cazoodle is actively developing other products, including a consumer Shopping Search service for online electronics shopping. "We have the technology and we want to use it," says Dr. Chang. The company is located in Champaign, Illinois.
###