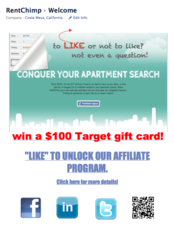 If you "Like" a page why not be rewarded for it?
Costa Mesa, CA (PRWEB) July 27, 2011
RentChimp makes hunting for a house or apartment for rent easier by utilizing a 21st century tool with powerful social networking capabilities. RentChimp is launching an Affiliate Program designed to reward users who share the site with their social network. To join the Affiliate Program, users have one requirement: "Like" the RentChimp Facebook Page. After users Like the Facebook Page they login into RentChimp.com, find their unique affiliate link, and share it with their social network. By providing each user with a custom link to the website, RentChimp can track the amount of referrals each user brings to the application.
The key to the affiliate program is spreading the link to as many people as possible. Users who share their link will earn referral "Like Credits" to put towards a variety of promotions. RentChimp offers giveaways to places like Target and Starbucks; renters who participate in the affiliate program have the chance to furnish their new place and enjoy some delicious move-in coffee for free!
RentChimp hit the market about a month ago and has big plans for the future of Real Estate. The site currently sources content from Craigslist. Users can search apartments for rent in San Francisco, Chicago, Los Angeles, New York, and other metropolitan areas. In the near future they plan to source additional content from top rental search sites including rent.com and apartments.com.
About RentChimp
RentChimp is a real estate technology company based in Costa Mesa, California. Their mission is to make finding a place to live easier by incorporating social networking into sophisticated web applications. They plan on changing the game of real estate with their knowledge of technology and understanding of the consumer's needs and wants. For more information visit RentChimp.com, Facebook.com/RentChimp, or follow @rentchimp on Twitter.
###