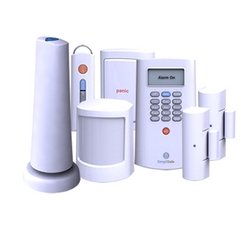 At 18-19 years old, students are just embarking on life outside of their parents' home, which makes them easy targets for expert criminals
Ann Arbor, MI (PRWEB) December 7, 2009
Campus Management Inc. (CMI), the leading provider of off-campus housing to the University of Michigan community, has partnered with SimpliSafe Inc. to offer apartment security systems to their tenants. This partnership will provide off-campus students and faculty access to the level of security normally enjoyed only by on-campus residents.
CMI chose SimpliSafe over traditional hardwired systems because it's completely wireless, keeping properties pristine and walls untouched. The system was designed specifically for apartments and is easily self-installed by the tenant, so property managers don't face any installation expenses or upfront costs. SimpliSafe even offers property management partners the option to have a unique maintenance PIN pre-programmed into systems sent to their tenants, so the alarms won't interfere with routine maintenance needs.
"With the recession hitting the entire country hard and security an increasing concern, we decided to take a proactive approach to safety. We're diligent about maintenance, great service and excellent properties. Why wouldn't we offer SimpliSafe's cutting edge security to our customers? This is another way we continue to offer the best service in Ann Arbor for off-campus housing," says Chris Heaton, co-owner of CMI.
SimpliSafe's wireless security systems offer both wireless alarm sensors and a built-in cellular link to their Emergency Monitoring Center. Apartment renters, who often cut the expense of a phone line, can finally enjoy the peace of mind offered by professionally monitored security at much lower cost. SimpliSafe's Emergency Dispatch Service is offered on a monthly basis for $14.99. Renters never face the hassle of long-term contracts. Students benefit because they can easily suspend or cancel their service during the summer months.
"Campus security can do a lot to protect students from outsiders, but students who choose to live off-campus face much greater risks. At 18-19 years old, students are just embarking on life outside of their parents' home, which makes them easy targets for expert criminals," says CEO of SimpliSafe Chad Laurans. The company points to its track record of providing off-campus apartment security. In June 2009, SimpliSafe's security system helped a student in Orlando catch a repeat burglar, whom the police arrested trying to flee the scene. Having SimpliSafe as an optional amenity in any building is an economical way to bring the invaluable benefit of peace of mind to apartment renters.
SimpliSafe's apartment security system is completely wireless, easy to install, and portable, so renters can take it with them when move. SimpliSafe's security systems start at $199.99. To learn more about SimpliSafe, visit http://simplisafe.com. To learn more about SimpliSafe's Property Management Partners program, visit http://simplisafe.com/affiliate.
About SimpliSafe.
SimpliSafe is a simple, secure and complete do it yourself home alarm system that you install yourself and take with you when you move. Using entirely wireless components, the alarm system can be easily customized and self-installed by a renter or homeowner. The system has a built-in cellular link to its Emergency Dispatch Center, so there is no need for a telephone landline or an Internet connection. SimpliSafe, Inc. is headquartered in Cambridge, Massachusetts.
About Campus Management Inc.
Incorporated in 1966, Campus Management, Inc. has been serving the needs of the residential and commercial rental community in Ann Arbor and surrounding areas for over 40 years. CMI currently manage over 325 houses and apartments in 93 locations and retail commercial space in nine locations. Its properties are primarily located within 4 blocks of the UM central campus although CMI does also manage a variety of houses in neighborhoods more distant to campus and downtown Ann Arbor.
###