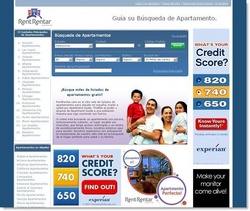 The Spanish language is the second most spoken language in the world. Dedicated to providing apartment property listings in fully-translated Spanish, RentRentar.com meets a growing need for the Hispanic population
ATLANTA (PRWEB) June 23, 2008
"The Spanish language is the second most spoken language in the world. Dedicated to providing apartment property listings in fully-translated Spanish, RentRentar.com meets a growing need for the Hispanic population," said Arlene Mayfield, president of Apartment Guide. "Further, it provides an invaluable service to our advertisers and property managers."
RentRentar.com may be accessed at http://www.rentrentar.com or through the "En Espanol" link on ApartmentGuide.com.
Contact Tamela Coval at [email protected] or 678.421.3320 for advertising information.
About Apartment Guide
Thirty-three years old, Apartment Guide is the flagship product for and division of Consumer Source Inc, a wholly-owned subsidiary of PRIMEDIA Inc. (NYSE: PRM). Apartment Guide delivers rental information to consumers via print, Internet and mobile devices. Apartments for rent are displayed and distributed in 77 publications in 74 markets and through ApartmentGuide.com, which is available nationwide. The Printernet (print and online) blended media product provided by Apartment Guide is the consumer's primary apartment search resource, offering renters content-rich apartment listings. For more information visit: http://www.apartmentguide.com.
About PRIMEDIA Inc.
PRIMEDIA Inc., through its Consumer Source Inc. operation, is an integrated media business that provides advertising supported print and online consumer guides for the apartment and new home industries. Consumer Source publishes and distributes more than 38 million guides – such as Apartment Guide and New Home Guide – to approximately 60,000 U.S. locations each year through its proprietary distribution network, DistribuTech. The company also distributes category-specific content on its leading Web sites, including ApartmentGuide.com, NewHomeGuide.com and Rentals.com, a comprehensive single-unit real estate rental site. For more information, visit http://www.primedia.com.
MULTIMEDIA GALLERY http://www.businesswire.com/cgi-bin/mmg.cgi?eid=5714191