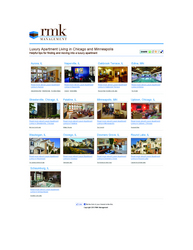 People can find everything they need online. They can search for tips for finding an apartment and moving tips at their convenience.
Chicago, IL (PRWEB) June 10, 2010
The Chicago-based apartment management firm, RMK Management Corporation, has launched a multi-faceted social networking campaign to help people in their apartment search. RMK realizes in the ever-changing and often complicated real estate market, finding a rental apartment can be daunting and hopes its new service will be of help.
"When you compare the way people searched for apartments a couple of years ago to the way they search for apartments today, the changes are tremendous. Social networking has changed the game," said Diana Pittro, executive vice president of RMK Management. "People have endless sources for information, which can be overwhelming. We saw a void in terms of a complete source for rental information for consumers in their apartment search, and we are filling it."
The property management social networking campaign includes Facebook pages, online apartment videos hosted on an RMK Management-branded YouTube channel, Google™ business listings for each of the rental properties, and photos and apartment floor plans showcased in a Flickr photostream. Also included in the rental social media program are a series of geographically-targeted apartment blogs, including blogs for Chicago neighborhoods like Streeterville and Uptown, as well as Chicago suburbs like Downers Grove, Oakbrook Terrace, Palatine, Schaumburg, Aurora, Naperville, Oswego, Round Lake and Waukegan. There are also neighborhood apartment blogs for Edina and Minneapolis, Minnesota. An online portal to each of these Minneapolis and Chicago apartment blogs exists at http://www.rmkcommunities.com. All of these online communication tools provide information and a means of communication for potential renters and current RMK Management residents.
According to Pittro, the Minneapolis and Chicago apartment blogs supply renters with tips for their apartment search, moving tips, and insight regarding apartment hunting, apartment decorating, and apartment living, as well community-specific news for RMK Management's renters. "By offering our insights on things like tips for apartment hunting and moving tips, we've become an apartment search resource for people and we've found that people are very receptive to the rental information we're supplying," she added.
YouTube and Flickr provide apartment videos, floor plans, and images of each of RMK Management's rental communities. "This allows potential renters to get a sneak peek at each apartment complex before they come to tour in person," she said.
"In our business, communication is key, and I think ultimately that is why social networking is working for us. People can find everything they need online. They can search for tips for finding an apartment and moving tips at their convenience," Pittro said. "Plus, social networking creates a two-way street. We're able to have a conversation with our renters and prospects, sharing ideas and answering questions through Facebook and our apartment blogs," Pittro added. "But, our opportunities for face-to-face contact are still what matters most. Keeping that human touch is critical."
For more information on RMK Management Corp. and its portfolio of rental properties, visit http://www.rmk.com.
Chicago-based RMK Management Corp. manages more than 8,000 apartment homes in the Chicago and Minneapolis areas. The company's portfolio spans a range of apartment types, from high-rise apartments and mid-rise apartment buildings to two- and three-story walk-up, garden apartments and affordable rental housing. RMK Management also develops, builds and renovates rental communities. The 20 Chicagoland rental properties are located in: Round Lake, Waukegan, Barrington, Palatine, Libertyville, Schaumburg, Oswego, Aurora, Naperville, Downers Grove, Oakbrook Terrace, Evanston and Chicago. Apartment communities in Minnesota are located in Minneapolis and Edina.
Contact:
Kathryn Krasin
(312) 267-4518
###