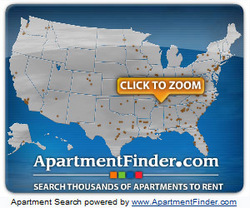 The new ApartmentFinder.com 4.0 Web site is rich with information and developed to enhance the user's experience as well as deliver better leads to our advertisers
Lawrenceville, GA (PRWEB) April 30, 2009
Bolstering its leadership in delivering apartment listings and apartment information to home shoppers, ApartmentFinder.com launches its new 4.0 Web site, featuring more interactive content than ever before.
The one-click access to information about apartments has been showcased even more prominently. Initially, while searching for apartments, users see one main large photo of the property followed by three additional smaller images arrive to provide a comprehensive visual understanding of content about featured property listings. Enter the zip code or city/state and information rich content displays, with featured apartments getting additional exposure.
"The new ApartmentFinder.com 4.0 Web site is rich with information and developed to enhance the user's experience as well as deliver better leads to our advertisers," said Marcia Bollinger, president of Apartment Finder. "If you are searching for a new apartment, there's no better information resource on the Web."
Quick searches are designated by radius, price range and bedroom requirements, or through searches for specific colleges, military bases or particular addresses. A "Virtual Earth map lets users see exactly where a property is located, and also strong keyword search tools that better justify specific information that is relevant to a search query.
An easy-to-use expanded feature, called faceted browsing, lets consumers choose specific properties to visit by narrowing relevant information about their specific needs. The search facets are positioned in the left side column of the site, and allow users to search by amenities, price, affordable housing options and schools.
There is also ample space for property managers to display specials and promotions being offered on specific listings. Now, featured apartments are able to display a total of up to five video links, further enhancing the user's experience.
"A site with as much information on it as ApartmentFinder.com is a tough act to follow. With all these added features no site provides people searching for property with a more in depth experience," said Mike Kim, a rental Web site owner.
When it comes to searching online for an apartment in any market -- from Dallas and Boston to San Francisco and Orlando -- ApartmentFinder.com makes it easy and efficient by having all the tools and detailed information at a home shopper's fingertips.
###