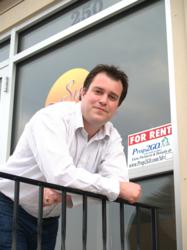 When we started, our website increased from 10,000 visitors a month to 50,000 in just 6 weeks
Saint John, NB (PRWEB) July 28, 2011
What started as an internet venture for apartment rentals and property listings is soon becoming a business about providing data for other industry niches. This strategic business model has evolved over the last few years, mostly due to the changes in the real estate industry. "Our company was a software and data company prior to being an internet property listings website," states Jason Richard, founder and CEO of Prop2Go, as he describes his excitement about the company's first contract in the United States.
Since 2010, Prop2Go has invested heavily in research and innovations to develop a search engine that can amalgamate similar types of data (e.g., apartments for rent, houses for sale, etc.) from several sources around the world. This technology is referred to as a vertical search engine. But, unlike other internet listing sites who protect their listings, Prop2Go makes that data available and transparent to web crawlers of major search engines. As a result, they've demonstrated that they can not only accumulate data very quickly, but, more importantly, generate visitor traffic to their website in a very short time. "When we started, our website went from 10,000 visitors a month to 50,000 in just 6 weeks," describes Jason.
This contract awarded to Prop2Go means much more than just being their first in the U.S. – it also signifies the company's ability to transfer its technology to different industries. "We had started with the real estate industry because we had already some knowledge of the real estate business, but the long term goal was to apply the search engine to any type of buyer-to-seller markets," states Jason. With this recent development, it appears that the company is well on its way to this goal.
For more information, please feel free to Contact Jason Richard at http://www.prop2go.com
###