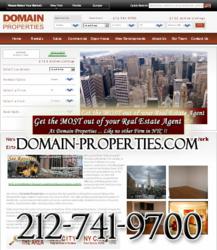 New York City will remain a popular tourist and corporate destination in the coming years.
(PRWEB) November 23, 2010
New York, NY Domain Properties, key players in the NYC real estate industry, are looking forward to placing a renewed focus on helping clients with NYC condo sales and apartment rentals. Recently, Domain Properties released its "[Manhattan Hotel Industry in NYC - 2011 NYC Hotel Market Forecast and 2010 Overview - Buyers & Sellers - Third Edition __title__ Hotel Market Report NYC 2011." Although their latest report centers on the New York hotel industry, this experienced and knowledgeable team make the point that the Manhattan real estate market is enjoying overall growth and exhibits exceptional promise for the future.
Domain Properties is confident about the continued appeal of New York City. People from elsewhere want to move to the Big Apple and residents of the city want to seek out the best Manhattan condos and apartments. As well, an increasing number of foreigners are expressing an interest in New York properties. The ' 2011 NYC Hotel Market Forecast' emphasizes the popularity of Manhattan.
The report notes, "New York City will remain a popular tourist and corporate destination in the coming years."
In addition, the report quotes Frits van Paasschen, CEO of Starwood Hotels and Resorts, explaining why Starwood keeps expanding in Manhattan. The Starwood CEO says that the attraction is "New York's enduring stature as the most global gateway city in the world."
Realtors are reporting a renewed interest in NYC condos and apartments - even in the luxury market. Manhattan buyers seem to love the luxurious details that can range from multiple fireplaces to outdoor spaces with a fire pit and rotisserie grill. Luxury condos offer outstanding services and amenities. Loft apartments are also a popular choice.
In fact, the entire spectrum of condo sales and apartments has experienced significant growth in recent months. The autumn period saw tremendous activity in apartment rentals as students settled in for the school year. Parents from across the country and elsewhere were purchasing Manhattan apartments for their college sons and daughters.
For more information about Manhattan apartments and NYC condos, contact Haim Yagen. For up-to-date data about Manhattan property sales and rentals, visit http://www.domain-properties.com Domain Properties can help individuals and families get set up in a New York apartment or condo. Their trained team can guide them through the entire process of buying, selling, or renting New York real estate. They know the industry and have built up valuable relationships over the years with their clients and industry contacts.
About Domain Properties:
Domain Properties, a professional team of industry experts, are changing the face of New York City real estate. They are a trusted resource for people who want to buy, sell, or rent Manhattan apartments and NYC condos. Their experienced staff specializes in sales and leasing of NYC properties. Domain Properties specializes in sales for NYC OFF MARKET hotels and property as well as land in New York City and sales of industrial and retail space. Their expert professionals can arrange leases for buildings, offices, or NYC retail space. With their expertise and knowledge of the real estate industry, Domain Properties always discovers the best deals in New York City real estate.
Contact:
Domain Properties
234 5th Ave
New York NY 10001
T: 212-741-9700
http://www.domain-properties.com
###