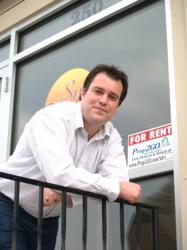 This was our first trade mission into the U.S. – it was very rewarding to sign deals with American companies
Saint John, Canada (PRWEB) November 25, 2011
Just back from successful trade missions to New York and Boston, Jason Richard, CEO of Saint John-based real estate and apartment rental website Prop2go.com, said his company is preparing to move into new geographical markets and raising capital will be essential for growth.
Prop2go's technology allows landlords and property managers to find tenants for their apartment buildings. It has more than 130,000 unique visitors per month and has more than 550,000 property listings in 11 countries, though its main focus is on Canada, the U.S., and the U.K. In a recent trade mission, the company signed up three new clients in suburban Boston and three more property management companies in New York. These collaborations mark the company's first clients in the U.S. "This was our first trade mission into the U.S. – it was very rewarding to sign deals with American companies," states Richard. Landing six deals out of the eight meetings during that trade not only shows that Prop2Go's services are in demand, but also that their technology can be exported from their home region of New Brunswick, Canada.
As Richard explained in a recent interview, the company's technology mines data to help connect buyers and sellers (or landlords and renters), and it now has a prototype for the jobs market and hopes to have a model for cars next year. Prop2Go is in the process of preparing itself to attract potential investors and is banking that their model used in the real estate and apartment rental market can also be as successful in other segments. "Our search engine works for any buyer-seller market where information is distributed across multiple internet sources," said Richard.
Prop2go has been privately funded so far, and has received assistance from such programs as the National Research Council's Industrial Research Assistance Program. The startup has raised roughly $200,000 from investors to date, but Richard said he's looking to add another $350,000, "so that we can really blow the top off of this thing and go out to hire some more resources.
"If you have any other questions, or would like to contact Prop2Go, please contact Jason Richard at http://www.prop2go.com for more information.
###