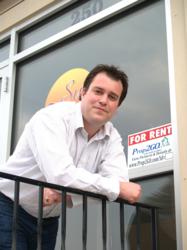 online companies depending on advertising for revenue are doing a very poor job on how they manage their online advertisements.
Saint John, NB (PRWEB) January 30, 2012
The online property company, Prop2Go, is not only keeping pace with technological changes, but also with business models for online and mobile companies. It is no secret that online advertising is a significant revenue maker for most online and mobile companies. For example, company's like Google, and Facebook depend primarily online advertisers for revenue and according to many marketing analyst, the trend seems to be increasing at a significant rate.
According to Jason Richard, CEO of Prop2Go, many of the online companies depending on advertising for revenue are doing a very poor job on how they manage their online advertisements. "Some companies are placing so many advertising images and links that you no longer recognize which sections of the site is legit and which ones are advertisements," states Richards. In addition, Richards mentions how misleading many online advertisers can be with their campaigns in order trick users on clicking on their ad for revenue. In fact, most advertisements on websites stand out like sore thumbs. Some websites are so horrible with their advertisement placements, that it would not be difficult to believe that the ads were added into the content in much, much later stages of the site's creation. Like it was after thought when the site was created?
Prop2Go has spent over a year designing, testing and evaluating different approaches to implement online advertising into their site. The objective was how to place advertising on their site without losing credibility and ease of use for the users. "We need to please two types of people, our users and our advertisers." states Richards. Prop2Go recognized which areas of a website was the most valuable to advertisers and set those sections aside for them. "Once we knew where the ads were going to be, then we could design a site around them, so it would feel like the ads always belonged there in the first place," explains Richards. Although this sounds very logical, it's not the traditional way of creating websites. The so call traditional way or cookie cutter approach was: First, you create a cool site, second, get visitor traffic, and third once it is popular enough then monetize the site with advertisement.
Prop2Go's design result is impressive since the ads are part of their top menu, which is the most important real estate space on any website since they are seen every time someone does an apartment or real estate search. However, what's more impressive is that the ads do not interfere with the functionality of the site. Not only is it avoiding any user frustration, but it is gives the site a clean and crisp look that enhance the user's experience.
For more information, please contact Prop2Go at http://www.prop2go.com
###