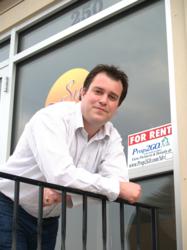 We are happy to be working with The Coronas Group...
Halifax, Canada (PRWEB) September 27, 2011
The Coronas Group makes an in-kind investment into New Brunswick based corporation Prop2Go NB Inc.
The Coronas Group (3251189 Nova Scotia Inc) confirms today that it has signed an agreement with the information & communication technology company, Prop2Go NB Inc., to provide targeted business management consultancy and international business development services to the Corporation in support of their expansion into the United States of America and the United Kingdom.
Mr. Langan, Chairman & CEO, of The Coronas Group said, "We are very delighted to have made an in-kind investment into Prop2Go and look forward to working alongside their management team supporting their growth into new markets both domestically and internationally."
Mr. Richard, CEO, of Prop2Go NB Inc. said, "We are happy to be working with The Coronas Group on our development and they have already been successful in structuring a contract between us and a U.S. company which has greatly boasted our performance and access to expansion capital."
ABOUT THE CORONAS GROUP
The Coronas Group is an international private equity, business development and corporate finance firm with operations throughout the English-speaking world with a global reach. The Coronas Group's founders have created a specialist firm combining all the elements a high growth potential company requires bringing its ideas to fruition.
ABOUT PROP2GO
Prop2Go is a company dedicated to customer satisfaction and providing software services to property owners and those searching for apartments or homes. We recognize that time is valuable, which is why we have created a 24/7 web-solution that is committed to meeting our customers' needs as they relate to apartments, houses, condos, real estate, land and commercial property searches and listings.
For more information, please visite http://www.prop2go.com, http://www.prop2go.uk.co or http://www.prop2go.mx
# # #