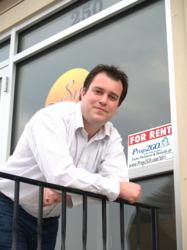 ...until we find a partner to help us, is to continue answering the phones and giving good customer service
New Brunswick, Canada (PRWEB) May 23, 2011
What do you get when more than 100,000 visitors come to your web site and want more information? "You get a lot of phone calls," says Jason Richard, founder and CEO of Prop2Go, "In fact, a whole bunch." Prop2Go is an internet listing company for realtors and property managers. The rapid growth of the company's website is resulting in unexpected business opportunities when people call Prop2Go looking for properties to buy or apartments for rent.
"We knew we had a good product, but we never anticipated so many people calling us looking for places," states Jason. What's ironic is that Prop2Go doesn't own or manage any of the listed properties; it leaves that responsibility to the users (i.e., property professionals/owners). Although property owners submit their contact information with their listings, people looking for properties are still calling Prop2Go to help them find a place to stay. The market seems to be indicating that there's a need to connect property seekers with property owners, especially when individuals are relocating.
Due to the influx of phone calls, Prop2Go is now offering a new service by identifying premier property professionals in different geographical areas that could help their users find a property to buy or rent an apartment. The new service allows real estate agents who are interested in receiving referrals the ability to sign up and provide Prop2Go with their contact information. That information is then matched with the user seeking a property or apartment in a specific geographical area. "We want property seekers to not only find a place, but to also find the right professionals and help they need," describes Jason.
Prop2Go's core competency has always been providing leading edge tools to property managers and real estate agents. Their technology allows their clients to not only publish and promote their properties, but also helps their listing rank higher in search engine results. This gives their clients a significant competitive advantage in an aggressive industry.
As for dealing with the current phone calls, Prop2GO isn't too sure what to do with them. Granted, the new service will help reduce the number of calls, but they have been desperately trying to find a property organization that would partner with them to accept their referrals. Unfortunately, such a task is difficult since very few property organizations have apartments for rent in every city of the country. "All we can do until we find partner to help us is to continue answering the phones and giving good customer service," says Jason.
For more information, please feel free to contact Prop2Go at 1-877-511-0080 or http://www.prop2go.com
# # #