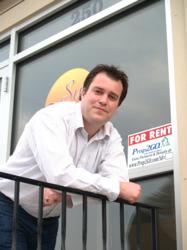 I often mention to people that our software company resembles a hybrid of Google and Kijiji.
Saint John, NB (PRWEB) August 31, 2011
Not only did Prop2Go know they had a good property and real estate search engine, they also believed very strongly that their online service could be very valuable to people in more condensed areas, such as London, England and numerous large cities in China. "We knew from past experience that our users are benefiting from our easy real estate property search functionality at Prop2Go, but we also knew that it would be much more appealing to people in larger communities" describes Jason Richard, CEO of Prop2Go.
The innovative and proprietary search engine finds other property listings and compiles then into one central location. This aspect of the software is a major time savior for users since they can quickly compare their results and know immediately who are the landlords or property managers in the area they're seeking. "I often mention to people that our software company resembles a hybrid of Google and Kijiji," states Jason.
Choosing to expand in the United Kingdom as well as in China was no accident, it was strategic. Both of those countries are densely populated, and have few online property sites that are currently available. In addition, with the growing number of expats going to China year after year, it just made sense for Prop2Go to grow in those two countries. "Our business model revolves around visitor traffic since our revenue is generated from advertising. To grow, we had to go somewhere where there are more people," explains Jason. Each site has specific apartment and house rental information in each of the countries, all organized by city and property type.
The service Prop2Go provides is free and users do not need to register online to search. "We believe that is one of the main reasons why our site is doing so well," describes Jason. "In order to compete and attract users as well as landlords, you have to first demonstrate that the service is beneficial for both parties. Second, you have the make it freely available." And that is exactly what Prop2Go has done. The UK and China sites are attracting users and property managers, as a place where they can do business. The combined apartment listings have surpassed the 30,000 and growing a rapid past. At the current rate, the company expects to surpass the 100,000 listings by the end of the year.
For more information on Prop2Go, please feel free to visite: http://www.prop2go.co.uk (United Kingdom, prop2go.com (United States and Canada) and http://www.apartmentsforrentchina.com (China).
###