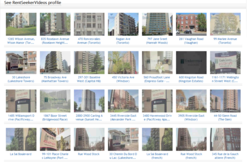 We're always looking for new ways to expose our clients' brands.
Toronto, Ontario (PRWEB) January 17, 2012
Offering yet another invaluable marketing tool to its clients, Toronto-based Internet Listing Service RentSeeker Inc. recently launches an exclusive video hosting and marketing website to promote it's rental listings and apartments for rent on behalf of clients.
Now, in addition to providing landlords with video production services, which include scripting, professional photography / filming, narration, music and extensive branding, RentSeeker has developed a space that solely showcases property films.
"We're always looking for new ways to expose our clients' properties and brands," says Chaim Rivlin, President and CEO of RentSeeker. "Our property videos will now be on YouTube, Viddler and our new video website which will offer great visibility and web traffic for landlords. This new site adds yet another dimension to the marketing matrix. The more publicity rental properties receive, the better."
A representative from Concert Realty Services said, "We were delighted to use RentSeeker.ca for production of our video advertising. They were a pleasure to work with, prompt in addressing concerns and changes, and the finished product is professional and true to our brand."
Shane Grosman, President, Flagship Property Ventures Corp., says, "The decision to have RentSeeker produce videos for Flagship's entire portfolio was an easy one. The quality of the finished product, in addition to the short turnaround time and ongoing marketing services, was just another example of this company's professionalism and dedication to customer service."
Adds Rivlin: "In a short time, we've produced more than 100 property videos. This is becoming the way to showcase a rental property online in 2012."
RentSeeker.ca has been featured in the media on a few occasions with a mention in the Globe and Mail and most recently featured in a Toronto Star article entitled "Are your rental units ready for their close up?" featuring the new video production and marketing service.
About RentSeeker Inc.
RentSeeker.ca (wholly owned by RentSeeker Inc.) is a privately owned Internet marketing company servicing the multi-residential, commercial, retail and hospitality and general real estate industries. A leading Toronto-based firm, it hosts a range of product offerings includes Listing and Syndication, Property Videos, 3-D Floor Plans, Social Media Design and Management, Website Design and Search Engine Optimization consulting. RentSeeker's dynamic Internet Listing Service platform is a feature-packed resource that includes Tenant Shout-Outs, Tenant Forums, Student Search by School/University, Student Forums, Social Sharing, Print Friendly Ads and more.
For media inquiries, please contact:
Chaim Rivlin, CEO
RentSeeker Inc.
75 Wildcat Road
Toronto, Ontario M3J 2P5
Toll Free: 800.445.7572
Local: 416.800.7572
Fax: 416.800.7568
Email: contact(at)RentSeeker(dot)ca
Web: http://www.RentSeeker.ca
Facebook:http://www.Facebook.com/RentSeeker
Twitter:@RentSeeker
YouTube: http://www.YouTube.com/RentSeekerVideos
###