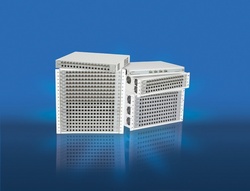 With our vendor agnostic IP test automation framework and APCON's intelligent physical layer switch, we do the heavy lifting so our customers don't have to.
CALABASAS, Calif. (PRWEB) July 29, 2008
State of the Industry
Service providers are deploying converged services over a unified network infrastructure. This convergence is causing IP networks to become increasingly complex to deploy and maintain. Moreover, the challenge is no longer network uptime, but rather quality of experience across distinct network elements. As a result, greater cross-vendor testing is required and automation of many unique testing elements and processes becomes essential to delivering quality products on-time.
In this challenging environment, customers have turned to in-house solutions, spending a significant amount of time, effort and resource that could otherwise be applied to meeting their business goals.
How the Partnership will Work
Ixia's partnership with APCON provides the industry with more complete lab automation and enables customers to address unique automation challenges that have largely remained unaddressed so far.
Test Conductor IP test automation framework leverages the APCON INTELLAPATCH physical layer switch to provide seamless layer 1 device integration. Ixia and APCON will cooperate to drive product development with a goal of providing complementary, best-in-class technology integration and interoperability.
APCON's INTELLAPATCH physical-layer switches feature an embedded interface that offers the ability to securely and remotely configure device connectivity among the variety of systems used in dynamic, complex test environments. Rewiring of complicated configurations and manual cable pulls are eliminated.
"The elimination of manual patching has helped our customers realize significant increases in productivity and hardware utilization and sizable reductions in time to market," said Richard Rauch, president and CEO of APCON. "By collaborating with Ixia, we will be able to provide truly unattended lab testing through complete automation of device, test tool and topology reconfigurations."
Test Conductor enables users to easily automate the entire process of testing, including test bed assignment and reservation, hardware optimization, DUT configuration, real-world traffic definition and results analysis. Test Conductor creates manages and schedules tests in sophisticated lab environments that perform real-world traffic™ simulation. It also maintains a central repository of the test data and permits test diagnostics and trend reporting.
"There is intense pressure on equipment manufacturers and service providers to produce high-quality products as they accelerate time to market," said Atul Bhatnagar, president and CEO of Ixia. "With our vendor agnostic IP test automation framework and APCON's intelligent physical layer switch, we do the heavy lifting so our customers don't have to."
About APCON
A pioneer in the field of physical-layer technology, APCON is recognized globally as a leading provider of layer 1 switches and software. In fact, APCON is the only company producing both hardware and software solutions to manage physical-layer connections. Organizations in over 30 countries currently depend on APCON solutions in their network infrastructures. Customers include Fortune 500 companies, government and military organizations, networking and computer OEMs, telecommunication and service providers, financial services firms, and medical companies.
For more information, contact APCON at 9255 SW Pioneer Court, Wilsonville, OR 97070 or go to http://www.apcon.com.
About Ixia
Ixia is a leading provider of IP service verification platforms and performance test systems for IP-based infrastructure and services. Ixia's test systems are used by network and telephony equipment manufacturers, semiconductor manufacturers, service providers, governments and enterprises to validate the performance and reliability of complex IP networks, devices, and applications. Ixia's multiplay test systems address the growing need to test voice, video, and data services and network capability under real-world conditions.
For more information, contact Ixia at 26601 W. Agoura Road, Calabasas, CA 91302; (818) 871-1800, Fax: (818) 871-1805; Email: info@ixiacom.com or visit our Web Site at http://www.ixiacom.com.
Ixia, Test Conductor and the Ixia four-petal logo are registered trademarks or trademarks of Ixia. Other trademarks are the property of their respective owners.
This material is for informational purposes only and subject to change without notice. It describes Ixia's present plans to develop and make available to its customers certain products, features and capabilities. Ixia is only obligated to provide those deliverables specifically included in a written agreement between Ixia and the customer.
MULTIMEDIA GALLERY http://www.businesswire.com/cgi-bin/mmg.cgi?eid=5742793