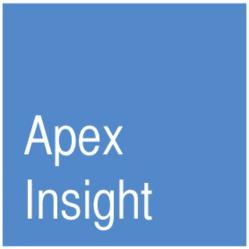 Clients can now purchase individual pages, charts or tables from Apex Insight market reports via our Pay-Per-Section page.
London (PRWEB UK) 18 February 2013
While most clients tend to purchase entire reports or access multiple reports via a subscription, Apex Insight, the leading research and market analysis consulting firm focusing on business and financial services markets, has always given customers the option to buy specific chapters, pages, charts or tables from its published market reports. However, until now, it has only been possible to do this either by telephone or through a third party reseller or broker service, such as Marketresearch.com Profound. The significant subscription charges and minimum purchase requirements of such broker services make them less attractive for many clients - and can defeat the objective of saving money by focusing on accessing a smaller amount of priority information.
From today, individual sections may be ordered and paid for directly on the Apex Insight website via the Pay-Per-Section page. Clients who prefer may still call to discuss their requirements and / or place an order by phone, as in the past.
Report sections are priced according to the price of the full market report from which they are drawn and the proportion of the total number of pages in the report that they represent. There is no minimum purchase level or other fixed cost requirement.
Sections are sold on a standard licence only, which enables their content to be shared by up to five immediate colleagues within an organisation and for elements or summaries of the information to be quoted internally and externally. Clients who wish to share the information more widely, for example, directly with more than five colleagues, by saving it on a network drive and/or with an advisor or customer, require an extended licence.
While most pages and charts from market reports may be purchased singly, those from 'Forecast' chapters are not sold singly. This is because Apex Insight believes that people using its forecasts should do so having awareness of the methodology, any assumptions that have been made and the supporting evidence, which requires them to review the 'Forecast' chapter in its entirety.
About Apex Insight
Apex Insight is an independent provider of research, analysis and advice. It was founded in 2012 by a team with a background in strategy consulting and the commercial due diligence team at Ernst & Young, the big 4 accounting firm. The company focuses on business services and other markets not well covered by existing sources. It publishes market reports and carries out consulting work to address more specific requirements. Recent Apex Insight market reports cover industries including facilities management, contract catering, pest control, security, call centres, Pawnbroking, payday lending, consumer credit, debt purchase, debt collection, express parcels, waste management, truck leasing and television production.