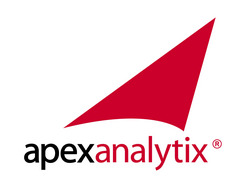 We owe our continued success to our passionate belief that our real product is the measurable value we deliver to clients.
Greensboro, NC (PRWEB) April 11, 2011
Today APEX Analytix, the industry leader in recovery audits, statement reviews, overpayment detection, and fraud and risk management for procure-to-pay, announced significant gains during the first quarter of 2011, led by its international business. The company more than doubled the number of contracts it holds with organizations headquartered or based in Europe.
The strong first quarter results build on momentum established in 2010. Last year APEX Analytix realized significant growth in all of its operational areas: international, retail, commercial and software.
New contracts, expanded contracts and renewals were especially strong among Global 1000 and Fortune 500 firms, including more than 40 leaders in the aerospace and defense, apparel, automotive, financial services, chemical, communications, computer, document management, energy, entertainment/tourism, food and beverage, grocery, healthcare, infrastructure, insurance, manufacturing, materials, paper, petroleum, pharmaceutical, research, retail, security, semiconductor, shipping and distribution, software, telephony, tobacco and transportation industries.
2010 growth spanned the breadth of APEX Analytix's product and service offerings, including technology-enabled recovery audits, statement reviews, specialty audits (tax, pricing, freight, advertising media, etc.), fraud and risk services, and FirstStrike® continuous monitoring software.
"We owe our continued success to our passionate belief that our real product is the measurable value we deliver to clients," said Steve Yurko, CEO of APEX Analytix. "We constantly strive to place their interests first and make them successful. The byproducts of that unique APEX Analytix culture are the traditional financial measures of success – including new client acquisitions, client retention, expanded scope with existing clients and growth in market share."
About APEX Analytix
APEX Analytix helps companies unlock their potential by maximizing their profitability and safeguarding disbursements globally. Our innovative people, processes and technology have transformed the audit recovery industry – led by FirstStrike®, our family of standards-based software. For more than 15 years, FirstStrike® has been used by some the largest accounts payable teams on the planet to detect and prevent errors, halt fraud in its tracks and improve procure-to-pay performance. APEX Analytix also is the world's leading provider of recovery audit and risk analysis services for the manufacturing, retail, government, services, healthcare and insurance sectors, where we help firms recapture lost profits and protect trillions of disbursements each year. For more information, visit http://www.apexanalytix.com or call 800.284.4522.
###