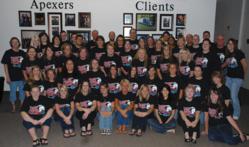 Fort Worth, TX (PRWEB) June 21, 2011
Apex Capital Corp, a leading full service factor, is an ever expanding company working hard to share their success with the local community. Giving back to the non-profit organizations in their local area is one of the most important ways they stay connected with their core values and grow as a team. Apex is currently sharing their success by helping organizations such as Junior Achievement, Adopt a Family, Susan G Komen, Meals on Wheels, Cook Children's, The Forever Trinity Dream Foundation, Ronald McDonald House-Fort Worth and the Leukemia and Lymphoma Society.
Junior Achievement
JA is a worldwide organization dedicated to educating students in workforce readiness, entrepreneurship and financial literacy through hands-on programs. Since 2004, Apex has raised over $62,000 by participating in the JA bowl-a-thon, hosting a silent auction and golf tournament, and donating during weekly and monthly in-office fund raisers. In 2007, Apex was awarded first place for team donation, first place for team coordination and second place for overall donation. Many Apexers also share their business experience by teaching and mentoring at local schools.
Adopt a Family
The National Head Start Association's goal is to work for policy and institutional changes that ensure all vulnerable children and families have what they need to succeed. For the past 3 years, Apex has adopted families within the Fort Worth area and donated money and gifts for the families during the holiday season. In 2010, they adopted 7 families, donating an average of $1500, and giving each child a minimum of 10 gifts such as needed clothing items and toys.
Leukemia and Lymphoma Society
The LLS's goal is to move closer to finding a cure for blood cancer by focusing on funding research projects, giving more blood cancer patients access to clinical trials, and to give all patients—no matter what stage of their journey—access to the information and services they need to fight and manage their disease. Through Team in Training-North Texas, 5 Apexers have raised over $13,450 and have participated in four half marathons, one marathon and one triathlon.
Ronald McDonald House
The Ronald McDonald House provides shelter, hope, and support to families with severely ill children who are receiving treatment in Fort Worth area hospitals. Apex is currently collecting items such as paper cups, paper plates, plastic ware, napkins and paper towels to donate to the house. With an average cost of $300 per night to feed the families, Apexers are also donating home cooked meals to help feed those who live there.
About Apex Capital
Apex Capital (http://www.ApexCapitalCorp.com), based in Fort Worth, TX, is the nation's leading full service factor specializing in the trucking industry. The 15-year-old factoring firm delivers a competitive advantage to clients throughout the United States by providing the highest level of service to clients through personal attention and superior technology. Since 2009, Apex has been consistently voted by its own employees as one of the "Top 10 Companies to Work for in Texas."
###