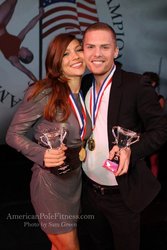 The championship was a FIRST in American history!
New York, NY (PRWEB) November 15, 2010
The event hosted a unique group of competitors who came from all walks of life to compete in New York City for the coveted historical title. Comedian Mona Cooper and Dancing With The Stars/Olympic Gold Medalist Maurice Greene co-hosted the gala while Guinness World Record holder "Flag Man" Dominic Lacasse had the crowd in awe of his signature "Moon Walk" mid air.
The champions are as follows: American Pole Fitness Champions™,
Women's Division -Marlo, Men's Division -Steven "Princeton" Retchless.
2nd Place Zoraya Judd and David C. Owen.
3rd Place, Kyra Johannesen and Badazz.
Pole Artist of the Year™, Amber Richard.
Pole Athlete of the Year™, Zoraya Judd.
TV/Film Personality, DAMOM WAYANS, Event Host and Olympic Gold Medalist , MAURICE GREEN, World Guinness World Record Pole Position Holder ,DOMINIC "Flagman" LACASSE, TV Reality Star, LATOYA JAMES (Oxygen's Dance Your Ass Off) and Season 4 American Idol Contestant, ANWAR ROBINSON, walked the red carpet before the beginning of the presentation.
Sponsors included Pole Spin Magazine, Mighty Grip for the grip solution & gloves, Thepoledancingshop.com for the competitor's wardrobes and Lil Mynx for the poles. Pole Spin Magazine, the first international glossy print magazine of its kind for the industry that was also launched in conjunction with the event.
Red carpet and championship video highlight are available on AmericanPoleFitness.com
American Pole Fitness Association (APFA) is an association established to give mass appeal & awareness by promoting the art and sport of pole fitness in the U.S and abroad. The first of its kind to offer FREE services and open its doors to the public. APFA is working towards achieving broad demographic & national recognition for pole fitness as a main stream sport, focusing attentions on the physical skills, gravity-defying technical abilities, poise, grace and elegance of performers of both genders. The industry is fast growing worldwide. Pole fitness as a sport is gradually reaching new heights globally and APFA's main goal is to make sure the U.S isn't left out of the phenomenal new innovative ways of staying fit. The association is the brainchild of fashion model turned Singer-Songwriter/Entrepreneur Tinu Naija. For more about APFA please visit http://www.americanpolefitness.com.
###