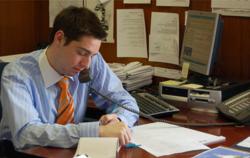 The best part of the internship program is that it gives you an opportunity to learn how to trade successfully and fine tune your money management skills in the safety of a virtual trading environment with the goal of trading real money.
(PRWEB) June 23, 2011
The Apiary Investment Fund has announced the acceptance of interns to its recently launched trader development program. The program gives prospective currency traders a chance to establish a positive trading record while learning essential skills for money management and capital allocation in the foreign currency market.
Interns of the Apiary Investment Fund enter the Trader Development Program where they work in a simulated trading environment, engage in trading skill development discussions with seasoned traders, and pass a series of competency exams aimed at developing consistent and profitable trading results.
"Central to the success of the trader development internship is the simulated trading environment that allows interns an opportunity to engage in real-time money management activity that is carefully tracked and monitored by the Fund's risk management team," says Shawn Lucas, head trader at the Apiary Fund. Interns who have proven their proficiency in managing the assets in the simulated trading environment are then given a unique opportunity manage money on a full or part-time basis for the Apiary Fund.
The internship program offers interns several ways to develop their skills via online resources including live and recorded trading discussions, real-time trading sessions, a comprehensive learning library, a repository of helpful tips and notes, as well as statistical tracking and reports.
In addition to the simulated trading environment and various resources available through the Apiary Fund website, traders are able to track their progress through a series of examinations designed to help the trader recognize their proficiencies in the key areas of money management, foreign currency basics, and technical analysis.
"The best part of the Trader Development Internship program is that it gives people an opportunity to learn how to trade successfully and then develop and hone their trading skills with the goal of using real money in the live market and make it as risk-free as possible," says John Elton, an internship manager at the Apiary Investment Fund.
The Apiary Trader Development internship program, like any other internship, gives people without an industry résumé an opportunity to learn the skills necessary to manage money on either an individual or institutional level.
In order to qualify for the Trader Development Internship, traders must enroll in an introductory money management training course, called the Forex Formula, where they learn how to identify, setup, execute and manage a position in the foreign currency market.
About Apiary Investment Fund.
The Apiary Investment Fund is a Pleasant Grove, Utah proprietary trading group that manages a private portfolio of foreign currency assets through crowdsourcing techniques, risk management, and technology. The company is currently looking for full or part-time traders to help manage the fund. To find out more information about becoming an associate trader for the Apiary Fund, visit their website: http://www.apiaryfunds.com or contact us via email: info(at)apiaryfunds.com
###