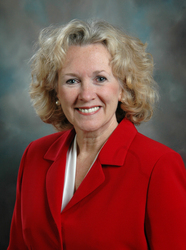 Denise has been a visionary in infection prevention whose leadership has changed the face of the practice. We are incredibly proud to recognize her with APIC's highest honor,
Washington, DC (Vocus) March 16, 2010
Denise M. Murphy, RN, MPH, CIC, of Newton Square, Pa. has been named the 2010 recipient of the prestigious Carole DeMille Achievement Award by the Association for Professionals in Infection Control and Epidemiology (APIC). The award, which will be presented at the APIC 37th Annual Educational Conference and International Meeting, July 11-15 in New Orleans, is given annually to an infection preventionist who best exemplifies the ideals of Carole DeMille, a pioneer in the field.
"Denise has been a visionary in infection prevention whose leadership has changed the face of the practice. We are incredibly proud to recognize her with APIC's highest honor," said Cathryn Murphy, RN, PhD, CIC, APIC 2010 President. "Widely regarded as one of the world's foremost infection preventionists, Denise has led our profession into the future by demonstrating the business case for infection prevention and the value of collaborative work. She was also involved in creating the first bundled approach of interventions to prevent ventilator-associated pneumonia and bloodstream infections, which were later adapted by other organizations. A prominent leader in the quality improvement and patient safety community, her extraordinary vision has benefitted not only the profession, but countless patients whose lives were saved or improved. We are lucky to know her and luckier still that she unselfishly and without hesitation continues to contribute so generously to our profession and to our organization."
An infection preventionist for more than 30 years, Murphy is Vice-President for Quality and Patient Safety at Main Line Health System in Suburban Philadelphia. She has system-wide responsibilities for Patient Safety and Risk Management, Clinical Performance Improvement, Infection Prevention and Control, Medical Staff Services (Peer Review and Credentialing), Regulatory Compliance, Bioethics and Performance Measurement.
Prior to her post at Main Line Health System, Murphy was Vice President and Chief Safety and Quality Officer at Barnes-Jewish Hospital at Washington University Medical Center in St. Louis. As Director for Epidemiology and Patient Safety for BJC HealthCare, she led the integration work of 13 acute care and five long-term care organizations to create an innovative infection prevention program and one of the first of its kind in the world. Under her direction, BJC saw dramatic and statistically significant decreases in infections across the entire system.
A long-time APIC member and leader, Murphy is a Past President of the APIC Board of Directors and remains actively involved in futures planning, leadership development and global business strategy.
"Denise is a passionate advocate for APIC and infection preventionists," said APIC CEO Kathy Warye. "Denise's vision and many contributions helped both the association and the profession become stronger leaders in the patient safety arena. We are exceedingly proud to be able to recognize her with this award."
"Denise is truly a remarkable leader in infection prevention who believes with all her heart in the cause – in preventing infections and putting patients first," said Victoria Fraser, MD, Professor of Medicine at Washington University in St. Louis. "Little did I know when I hired her in 1993 that she would transform the way we did infection control and that she would become a visionary leader and champion of healthcare epidemiology, infection prevention and patient safety at a national and international level. Her contributions to the field of infection prevention will be felt for generations to come."
Murphy is the recipient of numerous awards including Nursing Spectrum's "Excellence Award" (2007), the Elaine Larson Lectureship Award given for scientific achievement (2006), the Outstanding Service Award from BJC Healthcare (2004), "Infection Control Professional of the Year" awarded by the Missouri/Illinois Health Departments (2002) and the "Most Influential Women in Business Award" given by the St. Louis Business Journal (2002).
Murphy's national and international presentations and publications have focused on prevention of surgical site and bloodstream infections and ventilator-associated pneumonia, on establishing or re-designing infection prevention and patient safety services, and the business of infection control, patient safety and performance improvement.
The late Carole DeMille was among the founders of APIC who later became an internationally recognized authority in the developing field of hospital infection control. She was known for her vision and optimistic approach to present-day infection prevention methods. The award was established in her honor in 1979, following her death.
APIC's mission is to improve health and patient safety by reducing risks of infection and other adverse outcomes. The association's more than 13,000 members direct infection prevention programs that save lives and improve the bottom line for hospitals and other healthcare facilities around the globe. APIC advances its mission through education, research, collaboration, practice guidance, public policy and credentialing. Visit APIC online at http://www.apic.org. For consumer-related information, visit http://www.preventinfection.org.
Contact:
Liz Garman
202/454-2604
egarman(at)apic(dot)org
# # #