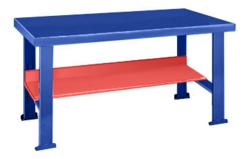 Industrial workbenches are typically boring gray only. With the advent of our BigBlue work bench line, customers can now enjoy a splash of color in their plants
Boston,MA (PRWEB) December 15, 2011
A Plus Warehouse is pleased to announce the BigBlue line of industrial work benches. This line is made in USA and unlike traditional work bench lines, is available in exotic colors. According to product manager Jim O'Sullivan , "Industrial workbenches are typically boring gray only. With the advent of our BigBlue work bench line, customers can now enjoy a splash of color in their plants"
Although the most popular BigBlue color scheme is dark blue with red accents, A Plus Warehouse can produce these work benches in any number of colors. The second color may add a bit of time to a ship date, but A Plus Warehouse is in the minority of companies offering small lot customization. When A Plus Warehouse says "Customers can order small lots of work benches in custom colors", they mean quantities as low as one , with no factory tooling charges. The color chart is published on the website so it is simple to see what colors are available to you at no additional cost.
When ordering work benches from A Plus Warehouse like the BigBlue , be confident that you are getting A Plus Warehouse quality products. BigBlue is made by the very same factory that produces the ever popular Rhino Heavy Duty Locker line for A Plus Warehouse. Clearly the product has quality to count on. A Plus Warehouse has a youtube video showing one of their work benches in action , along with a description. This video should prove informative.
A Plus Warehouse not only supplies BigBlue work benches, they also are a trusted supplier of storage cabinets and lockers as well. In fact there is a whole family of BigBlue inspired storage cabinets at A Plus Warehouse. The features colors of these cabinets is dark blue with red accessories, just like the work benches.
The entire A Plus Warehouse staff is ready to help with your work bench order or whatever product you may need from them. Most of the items shown at http://www.apluswhs.com can be customized, so do not hesitate to ask a sales representative.
A Plus Warehouse is a nationwide distributor offering work benches, lockers, storage cabinets and other industrial equipment in USA, Canada and worldwide.
###