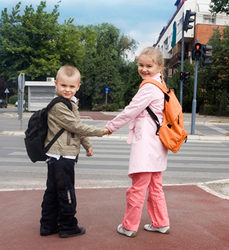 If a child's feet hurt, they will be far less likely to participate in outdoor sports and other activities that keep them moving and physically fit
Bethesda, MD (Vocus) August 5, 2010
As parents and children commence the annual hunt for deals on back-to-school items, shopping for healthy shoes should top the "must-buy" list for more important reasons than just a fashionable new look. According to the American Podiatric Medical Association (APMA), well-fitting shoes not only reduce the instance of foot and ankle injuries in kids, they also encourage physical activity, helping to decrease the likelihood of childhood obesity.
"If a child's feet hurt, they will be far less likely to participate in outdoor sports and other activities that keep them moving and physically fit," said APMA President Kathleen M. Stone, DPM. "With childhood obesity considered an epidemic today, it is vital that parents take just a few moments during this busy back-to-school shopping season to select a shoe that provides adequate support and fits properly. It is one of the easiest ways to keep a child pain-free and healthy."
As First Lady Michelle Obama's "Let's Move" campaign continues to bring the childhood obesity fight into the public eye, parents are encouraged more than ever to only purchase foot-friendly shoes that keep a child's feet safe at home and on the playground.
Shopping for healthy shoes can be a daunting task without knowing what to look for—but the following APMA tips can make any back-to-school shoe purchase an easy, smart, and safe one:

Before buying a shoe, perform the "1,2,3 Test." First, squeeze the back of a shoe's heel and ensure that it does not collapse. Second, grab the front (toe box) of the shoe and make sure that the shoe bends where the child's toes would naturally bend in the shoe. Third, grab the shoe at both ends and try to gently twist. Shoes should never twist in the middle and should be rigid. If a shoe fails any of these three steps, it should not be purchased.
Look for the APMA's Seal of Acceptance. Many products, including select children's footwear models made by Pediped, Reebok and Tsukihoshi, have been awarded the APMA's Seal of Acceptance for demonstrating proper foot health. Look for the APMA Seal on product packaging or a manufacturer's website.
Never hand down footwear. Sharing shoes can spread fungus such as athlete's foot, and regardless of shoe size, shoes that are previously worn can cause problems.
Have a child's foot measured regularly. Most shoe stores will be happy to measure a child's foot. Children should also receive a foot health check-up from a podiatrist that includes a foot measurement to ensure proper fit. Since shoe sizes may not be consistent from one manufacturer to the next, use size only as a guide, making sure the shoe is comfortable on the child's foot.
No "break-in" period required. Your child's shoes should be comfortable to wear immediately and should not require a break-in period for comfort.
For more back-to-school shoe shopping tips, visit http://www.apma.org/kids-shoes. For more information on children's footwear with the APMA Seal, visit http://www.apma.org/pediatricfootproducts.
Founded in 1912, the American Podiatric Medical Association (APMA) is the nation's leading and recognized professional organization for doctors of podiatric medicine (DPMs). DPMs are podiatric physicians and surgeons, also known as podiatrists, qualified by their education, training and experience to diagnose and treat conditions affecting the foot, ankle and structures of the leg. The medical education and training of a DPM includes four years of undergraduate education, four years of graduate education at an accredited podiatric medical college and two or three years of hospital residency training. APMA has 53 state component locations across the United States and its territories, with a membership of close to 12,000 podiatrists. All practicing APMA members are licensed by the state in which they practice podiatric medicine. For more information, visit http://www.apma.org.
CONTACTS:
Mike Kulick
301.581.9220
Angela Berard
301.581.9227
###