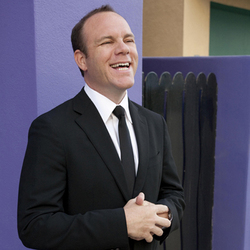 We are very excited to have the opportunity to gather podiatric medicine's finest once again to exchange fresh, new ideas in our field while getting a taste of Seattle
Bethesda, MD (Vocus) July 12, 2010
They say that laughter is the best medicine—and in Seattle this July, the American Podiatric Medical Association (APMA) will gather over 1,000 of the nation's podiatrists—foot and ankle physicians, surgeons, and specialists—to take part in educational programs, discussing the newest medical technologies in the field, and have a few laughs along the way.
APMA's 98th Annual Scientific Meeting, being held this year at Seattle's Washington State Convention & Trade Center from July 15-18, will feature an entertaining opening session address by comedian Tom Papa, host of NBC's hit show "The Marriage Ref." Papa has also appeared on Comedy Central, and is sure to complement the scientific program that features educational workshops and presentations on pediatric foot problems, wound care, surgery and more.
"We are very excited to have the opportunity to gather podiatric medicine's finest once again to exchange fresh, new ideas in our field while getting a taste of Seattle," said Kathleen Stone, DPM, APMA president. "Along with the comedy of Tom Papa, APMA is expecting this to be one of our most enjoyable, successful and interesting scientific meetings to date."
The faculty will highlight new advances in podiatric technology, as well as ground-breaking results from a Thomson Reuters Healthcare study on diabetes and care by podiatrists. The meeting will also feature a variety of breakfast symposia, educational tracks, plenary sessions, and hands-on workshops for members. To help raise awareness about podiatry, TEAM APMA—a group of APMA podiatrists with an interest in running—will meet in scenic Myrtle Edwards Park on Saturday for a 5k group fun run/walk.
To attend the Seattle meeting or schedule an interview, please contact ahberard(at)apma(dot)org. For more information, visit http://www.apma.org/thenational.
Founded in 1912, the American Podiatric Medical Association (APMA) is the nation's leading and recognized professional organization for doctors of podiatric medicine (DPMs). DPMs are podiatric physicians and surgeons, also known as podiatrists, qualified by their education, training and experience to diagnose and treat conditions affecting the foot, ankle and structures of the leg. The medical education and training of a DPM includes four years of undergraduate education, four years of graduate education at an accredited podiatric medical college and two or three years of hospital residency training. APMA has 53 state component locations across the United States and its territories, with a membership of close to 12,000 podiatrists. All practicing APMA members are licensed by the state in which they practice podiatric medicine. For more information, visit http://www.apma.org.
Contacts:
Angela Berard, 301.581.9227
Mike Kulick, 610-462-5668
###