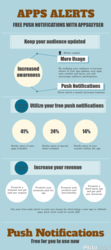 have I have seen that my users are entering the app to see the new content I told them about in the push notification.
Alexandria, VA (PRWEB) January 24, 2013
AppsGeyser offers, as part of its Android app making tool platform, three push notifications per month to all app makers that create an Android app. Over 31,000 app makers make use of these free tools in order to promote their apps and enhance their businesses. The way in which app makers utilize the push notifications differs depending upon each individual and the needs of their businesses.
AppsGeyser has announced that from the data analyzed there are four main styles in which push notifications can benefit a business. The main use by far used 41% of the time is to notify the current audience of new apps that have just been released. The second most common use at 24% is to send the users a special offer or links to a landing page. Although used less commonly, 14% of push notifications alert the users of new content that is now available on the app and 12% of all push notifications are used to provide a link to affiliate offers or ads. The remaining 9% of all push notifications are used for a wide variety of reasons.
What is important for all app makers to realise, is that once they have created an app, automatically as part of their free account with AppsGeyser, they are entitled to three push notifications a month. With a click through rate of 4%, this free gift is one that should be utilized to push your business further.
Mark Jones is an AppsGeyser Android app, he told us: "I have only recently started using my push notification entitlement and since I have I have seen that my app is used more frequently. My users are reminded about the app and are entering the app to see the new content I told them about in the push notification."
AppsGeyser Co-founder Vasily Salomatov, explained, "It is a shame that only 31,000 of the 306,000 apps are utilizing their entitlement to push notifications. The app makers that are using them are amongst the most highly successful apps made using our app making tools."
About AppsGeyser
AppsGeyser, launched in February 2011, is a fast growing Android app creation platform. AppsGeyser enables users to create apps for Android devices from any web content in under five minutes. AppsGeyser has seen more than 306,000 apps created on its platform. There have been more than 169 million downloads of its apps.