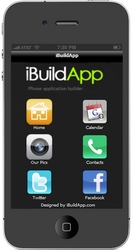 It was an honor to be selected as a finalist. We heard nothing but positive feedback about iBuildApp. Our adoption rate has been strong.
San Mateo, CA (PRWEB) February 24, 2011
iBuildApp, a mobile apps building tool, was named one of the top finalists by Vator. As part of their Vator Splash business plan competition, 10 startups were chosen to pitch their business to top VCs in California. The VCs voted on the finalists. iBuildApp was one of hundreds that applied to make the final round.
Vator is one of the largest professional networks dedicated to high-tech entrepreneurship. It was founded and run by veteran and award-winning journalist Bambi Francisco. The sold out event, Vactor Splash, drew 400 founders, investors and other tech stars to the Cafe du Nord in San Francisco.
Judges score each startup on three criteria: novelty/innovation, market potential and team. The combination of judges' votes and popular votes resulted in the top 10 finalists and the finalist was chosen by popular vote.
CEO of iBuildApp, Rafael Soultanоv presented to investors about the increasing fragmentation of mobile operating systems, the future of mobile self-publishing, and mobile development. Though not the winner, Soultanоv's presentation was well-received.
"It was an honor to be selected as a finalist. We heard nothing but positive feedback about iBuildApp. Our adoption rate has been strong. We're still seeking publishers such as newspapers and magazines to publish using our simple app builder platform," said Soultanov.
The company has positioned itself in a hot market. Nielsen says revenue from apps is projected to increase more than 1,000% between now and 2014. Revenue in 2011 is projected to be over 15 billion, up from $5.2 billion in 2010.
iBuildApp emphasizes mobile marketing by helping businesses create and manage their own apps and engage customers across different mobile platforms, including iPhone, Android, Blackberry, Symbian, and Windows Mobile. The free DIY platform requires no coding and currently hosts more than 2,000 apps from over 100 different countries.
View the presentation about iBuildApp at http://www.docstoc.com/docs/71011062/?key=MWU1N2M5MzEt&pass=N2MyNC00YTk4
The winning startup, LaborVoices, received a professional video of their presentation, a one-hour sit-down meeting with Javelin Venture Partners, a free demo table spot at the next Vator Splash, the opportunity to be an online judge for the next Splash event, and a $500 HP Notebook Projector.
About iBuildApp
iBuildApp http://ibuildapp.com is a new startup in the Mobile infrastructure space, that makes it easy and affordable for any business to build and manage mobile apps. iBuildApp hosts over 2,000 mobile apps from 100+ different countries. Our mobile content management platform provides a cost effective solution for businesses to build and optimize their mobile presence for all smartphone devices.
iBuildApp is the established "do it yourself" platform to make iPhone/Android apps, with no coding required.
We help companies to connect and engage customers to promote business, to keep customers updated and encourage their loyalty with rewards with key features including Mobile Commerce, Mobile Advertising Management, and Social Networking Tools.
Press contact:
Elena Svetlova
800-782-1746
San Mateo, CA 94402
# # #